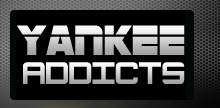 December 16, 2009 · Greg Fertel · Jump to comments
Article Source: Bleacher Report - New York Yankees
I touched on this topic in Monday's post , as I wondered what the Yankees should do with the left field and designated hitter positions. My line of thinking was that the Yankees don't need to bring Johnny Damon back when there are similar options available at a much more affordable price.
Instead of just rambling like I did on Monday, a better way to prove this is using projections. I'm not saying the Yankees should just look at CHONE's projections and sign a player based on them; I'm sure they have their own way of evaluating and projecting players. However, a computer projection system like CHONE is a good place to start.
I was a fan of Mike Cameron, but he signed with the Red Sox and is no longer an option. Let's see what CHONE has to say about the top free agent left fielders offensively. CHONE does project defense, but I believe that it uses TotalZone, which is a notch below UZR in accuracy. If I'm wrong about this, please correct me.
For defense, I'll be using Jeff Zimmerman's UZR/150 projections. I will also include my own baserunning projections, Marcel-style, with a 5-4-3 weight and some regression.
I feel that these three projections will paint a pretty accurate picture of the value that can be expected from the left field options. One other thing to note is that I added 10 runs to a players' center field UZR projection if that was where they have spent the majority of their time because that's the average improvement.
Here's what I came up with:
Well, I'd be lying if I said I wasn't surprised by how this came out. Brett Gardner projects better than Jason Bay? Wow. It does make sense though. I think his defensive projection may be optimistic, but even if you temper it, he still looks better than or equal to Bay when you include his baserunning advantage.
You can also add that if anything, Gardner's baserunning projection is pessimistic given how much regression I added due to his lack of MLB experience. I fully buy into the fact that he will be a better overall left fielder than Jason Bay in 2010, no matter how ridiculous that sounds.
Then there's Matt Holliday. He projects to be quite a bit better than Gardner, but would he really be worth the money and years if he is only a one to two win upgrade over Brett Gardner? I say no.
The other clear thing to take away from this exercise is that it does not make sense for the Yankees to bring Johnny Damon back, no matter what the terms are. If they're looking for a DH, there are better options available. If they are looking for a left fielder, they have two internal options that are equal to or better.
As far as I'm concerned, the left field position is already settled. Brett Gardner's defense and baserunning prowess give him the job, and there really shouldn't be much argument there.
Read more New York Yankees news on BleacherReport.com