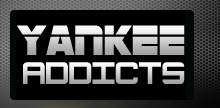 March 21, 2013 · Stephen Skinner · Jump to comments
Article Source: Bleacher Report - New York Yankees
The New York Yankees will sport a different look and feel entering the 2013 season thanks to open battles for starting spots on the squad this spring training.
Given the numerous injuries the team has already suffered, and the loss of fixtures in the lineup to free agency, manager Joe Girardi has had more than one contest to decide upon prior to Opening Day.
At catcher, Russell Martin had provided both power (21 HR in 2012) and veteran leadership in his two years as a Yankee. He signed a two-year contract with the Pirates in December.
First base was supposed to be set in stone this season. Following a disappointing 2012 campaign that saw him play less than 156 games for the first time as a Yankee, Mark Teixeira was looking to return to his normal run-producing numbers (he averaged 37 HR and 114 RBI in his first three years in pinstripes).
That hope was dashed when he suffered what appeared to be a wrist strain during batting practice with Team USA prior to the World Baseball Classic. The situation became even more serious as news broke that the injury is more than just a strain and could require season-ending surgery.
Manager Joe Girardi toyed with the idea of playing center fielder Curtis Granderson in left field. The thought was that the team could make the most of Brett Gardner's talents by playing him in center.
On Granderson's first spring at-bat, that idea was put to rest.
The outfielder was hit by a pitch from J.A. Happ, breaking his forearm and sidelining him until May and ending the left-field experiment.
Ivan Nova was guaranteed a rotation spot going into last year. He was coming off a stellar 2011 season that saw him put up a 16-4 record with a 3.70 ERA. As a 24-year-old, his potential was endless.
The bottom fell out in 2012, though, as Nova posted a career-worst 5.02 ERA and yielded 28 HR in 28 starts.
Now a spot is no longer guaranteed and he is engaged in an intriguing battle for the role of fifth starter.
Let's take a closer look at who is winning their respective positional battles.