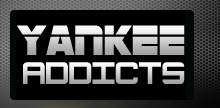 June 18, 2009 · Todd Farino · Jump to comments
Article Source: Bleacher Report - New York Yankees
Magglio Ordonezhas been benched indefinitely by manager Jim Leyland because of this ridiculous slump that he has been in basically all season long. You can expect him to do a lot more of what you see in the picture…watching.
Leyland was quoted talking about Ordonez swing saying: "I don't think he can figure it out. I don't know if anyone can figure it out."
OUCH! You don't think anyone can figure out what is wrong with his swing? Don't you pay a hitting coach to do just that? Bench Maggs until you see he's going to play again, and in 12 team leagues I would consider cutting him if there is something good on free agency.
Tommy Hanson had the best of his three outings on Thursday, although he still struggled with control. Hanson didn't allow a run in six innings and struck out two. Unfortunately, he did walk four guys.
I really expected his strikeout numbers to be better, but I am encouraged that he has been allowing fewer runs each time out. Hanson is one of the three best pitching prospects in baseball this year, and you need to continue to pitch him. He should get a little better each time out.
Joba Chamberlain was slightly above average again this time out against the Washington Nationals, and I am just not sure of what to expect of him going forward.
He obviously is not going to be the kind of guy he was when he was coming out of the bullpen a couple years ago. It seems that he doesn't go all out with his pitches in order to try to last longer into games. His velocity is not near what he showed out of the bullpen, and his effectiveness is the same.
He is still doing good, but a long way from great.
Luke Hochevar fooled us all. He had a good couple starts, and got many of us thinking that perhaps he could have turned a corner and was going to be good.
Oh no, slow down.
He allowed six runs over just four innings. I am glad that I didn't jump back on the Hochevar bandwagon, although I probably told some of you emailers that it was worth a shot with him. I figured against a weak hitting D'Backs lineup that he could succeed.
If you picked up Hochevar, I would hold him for one more start, unless you see something on the wire that could bring you stability.
He was a top prospect; maybe he can figure it out. Can you feel my confidence in him?
Chris Davis finally hit a home run tonight, much to the delight of my co-host Jeff Mans. Of course, it was his only hit of the game and he did strikeout two more times. That now brings him to 43 hits and 97 strikeouts.
I have officially jumped off the Davis bandwagon completely. There is still hope that when it heats up in Texas that he might too, but I can't keep this dead weight on my roster any longer.
Dontrelle Willis is headed back to the 15 day DL with an anxiety disorder, although I'm not sure how that qualifies him for the disabled list.
He had a few effective starts, but most of the time he was wild and erratic (which are pretty much the same thing).
Don't bother stashing him, if you have him. Send him packing.
Ricky Nolasco pitched great again through five innings before the game was delayed by rain. Nolasco allowed just one run over five innings. The best part of the outing is that he didn't walk anyone.
I liked Nolasco upon his return from the minors, and that grows with each start he makes. I can't believe he would still be out there, but definitely pick him up if he's still available.
Livan Hernandez continues to be one of the more dependable pitchers for the Mets, and he could even be used as the last pitcher on your staff.
The win was blown for him by the bullpen, but Hernandez was great again. Livan allowed just two runs over seven innings, and struck out four.
Now, he's never going to throw you a shutout, and he isn't going to whiff ten, but most of the time you can count on him to at least give you a quality outing and should be a reasonable pitcher to have as your fifth or sixth starter.
Mike MacDougalunexplainably got his second save in as many days against the New York Yankees.
After having to pitch out of trouble on Wednesday, MacDougal recorded a pretty quiet save tonight against the Bronx Bombers. He did allow one hit, but it was again erased by a double play.
The Nationals now have 17 wins on the season, which means don't pick up MacDougal and expect a ton of save opps.
Michael Cuddyer is back to his hitting ways. After missing a few games due to injury, Cuddyer had his third straight two-hit game and connected on his tenth homer of the season.
He has only played 140 games or more twice in his career, so you can pretty much count on the fact that he will get hurt again at some point during the season.
If he's out there and you need a little pop, I would give him a look. However, I would keep him on a fairly short leash and be ready to let him go when he either gets hurt or goes cold.
Geovany Soto hit a game-tying home run against the White Sox on Thursday, but he is still struggling badly. Soto is either getting three hits or no hits, and of course most of the time it is no hits.
Considering the state of the catcher position, I would keep throwing Soto out there. He is in a good lineup in a small home ballpark. I still have faith that Soto will turn it around before the All-Star break.
Gordon Beckham has been starting to hit more, and is looking like he belongs in your starting lineup perhaps.
He has now hit in five straight games, and has driven in five runs in the last four games. He should be eligible at short and third, and has only struck out five times since coming to the majors. Of course, he only has seven hits in 40 at bats, but he has been showing signs of improvement.
He is a guy that you definitely should have in a keeper league, unless you are stacked, and in a seasonal league I would definitely monitor him, even if I didn't pick him up right away.
Jose Lopez was placed on the bereavement list and will miss somewhere between the next three to seven days. No specific reason was given, but I believe that the minimum is being out of the lineup for three days. Hopefully all is well with Lopez and his family, and hopefully they will give us a day notice when he is going to return.
I have run my consecutive games up to five in the 56 Game Hit Streakon USA Today. Join our group that is called Fantasy Bball 2nite. Password is fantasy. I am going to choose Evan Longoria versus Fernando Nieve for Friday. The group is currently led by Planet 10 who ran his/her streak to seven with Michael Young.
Mailing List
I'm not going to stop bringing up the mailing list until I get a day where I don't get a request to join it. For those of you who haven't seen it yet, when I find news earlier in the day I will send an email to you about whatever it might be. If you were on the mailing list you would have found out about the callups of Matt Wieters, Fernando Martinez, Nolan Reimold and others. The trade of Nate McLouth, and injuries to Jose Reyes, etc. This mailing list is your way to get a step up on your competition. Anyone who is on the list, please leave a comment below on whether you think that you have benefitted from the list. Send an email to either fantasybaseballtonight@gmail.com or fightingchancefantasy@gmail.com and put Mailing List in the subject line.
As always, your comments and questions are welcome atfightingchancefantasy@gmail.com. I guarantee a response within 18 hours. Also, don't miss the "Fantasy Baseball Tonight" podcast four nights a week from Monday-Thursday. The Big Show on Wednesday is co-hosted by Todd Farino of fantasybaseballsearch.com, RC Rizza of junkyardjake.com and myself, Ryan Hallam at fightingchancefantasy.com. To hear the show go to www.blogtalkradio.com/the_true_guru. You can also hear me weekly on the Tuesday Night show. Join me with Jeff Mans every Tuesday night at 10pm EST for all the the info and craziness we can pack into one hour. A can't miss if you plan on winning your league.