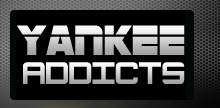 April 4, 2010 · Nick Kappel · Jump to comments
Article Source: Bleacher Report - New York Yankees
Although 2010's official Opening Day isn't until tomorrow, the Yankees/Red Sox Sunday night matchup marks the beginning of another baseball season.
For those of us who devote our entire summer to fantasy baseball, tonight signals the start of a six-month journey that requires a daily grind; constantly setting lineups, adding free agents and proposing trades, not to mention watching the games.
Because busy schedules can keep fantasy managers from viewing every game, they are often limited to checking box scores each night. While this strategy can be useful—it's time consuming—and robs fantasy managers of live game action, including many things the box score doesn't show.
This is where the Fantasy Baseball Insiders come in.
Over the next six months, we vow to watch 162 baseball games in their entirety. In addition to this, our site will feature a Fantasy Baseball Insiders Tonight post, which will include fantasy relevant tidbits from each game played on that particular day.
Gone are the days of box score-checking late at night. We'll watch all the games, collect the important information, and organize it all into one place for you to view each night (or following morning).
Without further ado, I present the first edition of Fantasy Baseball Insiders Tonight :
Game No. 1 – New York Yankees vs. Boston Red Sox
The first Sox/Yanks matchup of 2010 produced a familiar outcome for these two teams – lots of offense. For this reason, it shouldn't come as a surprise that each team's Opening Day starter (CC Sabathia and Josh Beckett ) got shelled. In fact, recent history suggests both aces typically struggle in April:
Sabathia has a 4.71 ERA and 1.39 WHIP in 37 career April starts.
In his last four Opening Day starts (not including tonight), Sabathia has allowed 17 earned runs in 18 innings (8.50 ERA).
Between 2008 and 2009, Beckett has a 5.73 ERA in nine April starts.
For these reasons, it's much too early to fret over one bad start (Sabathia: five earned runs in 5 1/3 innings, Beckett: five earned runs in 4 2/3 innings). Both starters looked good, displaying good movement and velocity. In fact, Mark Teixeira and Alex Rodriguez combined to go 0-for-6 against Beckett.
Other notes:
Curtis Granderson went 1-for-4 including a walk, a strikeout, and his first HR in pinstripes.
Brett Gardner went 2-for-4 with one run and RBI batting in the nine hole. He also stole home on a double steal. The Yankees' starting left fielder could be in for a breakout season.
Joba Chamberlain entered the game with two outs and one on facing a one-run deficit in the seventh inning. He retired the first batter he faced (Adrian Beltre ) to end the inning. He also recorded all three outs in the eighth, but not before allowing one run on two hits and a walk.
Boston newcomers Mike Cameron and Marco Scutaro combined to go 4-for-6 batting eighth and ninth, respectively. Each batter walked once and crossed home plate once. Scutaro also tallied one RBI.
Kevin Youkilis (serving as Boston's cleanup hitter) went 3-for-4 with three runs and two RBI.
Jonathan Papelbon allowed a two-out single to Jorge Posada in the ninth, but ended the threat by retiring Granderson to nail down his first save of the season.
Check back Monday night (and all season long) for more Fantasy Baseball Insiders Tonight updates!
ORIGINAL ARTICLE: FANTASY BASEBALL INSIDERS
Follow Fantasy Baseball Insiders on Facebook
2010 Fantasy Baseball Insiders player projections:
Read more New York Yankees news on BleacherReport.com