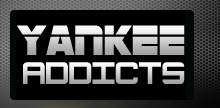 January 29, 2013 · Daniel Morris · Jump to comments
Article Source: Bleacher Report - New York Yankees
Alex Rodriguez is perhaps one of the most intriguing superstars Major League Baseball has ever seen.
He debuted in the majors at the young age of 18 in 1994, quickly showcasing his undeniable talent. After his first full season with the Seattle Mariners in 1996 during which he batted a robust .358, it was clear that Rodriguez intended to prove the claim that he would be one of the best all-around baseball players to ever live.
Over the course of his illustrious career, Rodriguez has recorded 14 100-RBI seasons, won three AL-MVP Awards, and two Gold Gloves. He was the fastest player to hit 500 and 600 career home runs. He also received the Babe Ruth Award in 2009, given to the best player in the postseason, after helping the Yankees to their only World Series championship in the past 12 seasons.
While he did admit to using performance enhancing drugs for three years while on the Texas Rangers, some fans and observers could choose to overlook this fault. After all, this was the Steroid Era and any number of players may have been on PEDs during those seasons. Overall, Rodriguez's statistics testify to the fact that he may be the best player of this generation, if not of all time.
While Rodriguez may have enough talent to last him an eternity, he is alas not immune to the effects of Father Time. Over the past two years, the 37-year-old Rodriguez has averaged just 17 home runs, a .275 average and has played in fewer than 111 games each season. Also, it was recently announced that Rodriguez would be out until at least the All-Star break in the 2013 season after undergoing hip surgery.
Now, the New York Yankees did acquire Kevin Youkilis over the offseason to fill the hole at third base while A-Rod is sidelined. I still believe, however, that Rodriguez's talent and potential to record big numbers every season are things without which any team would struggle.
Here are a few reasons that losing Rodriguez for at least half the season, maybe even the entire season, is a considerable blow to the Yankees.
With Rodriguez out, the Yankees turn to their former enemy Kevin Youkilis to fill the void at third base. Youkilis, over his career, has been known for working pitchers, getting on base and boasting stellar offense numbers. Last year, however, while splitting time between the Boston Red Sox and Chicago White Sox he batted just .235 and had an OBP of just .336, both career lows.
Perhaps Youkilis just had an off year. Or perhaps pitchers have figured out how to keep the pesky infielder from getting on base. Either way, Youkilis may not produce great numbers this season; in fact, there is a good chance he may hit even lower and get on base even less frequently.
While Rodriguez is not the player he once was, I doubt he would ever produce as poorly as Youkilis did last season. Youkilis may do a solid job for the first half of the season, but I still think he is a considerable downgrade from Rodriguez.
Under the assumption that last year was just an off season for Rodriguez, Yankee fans would be cringing after hearing about his surgery. In 2010, the last time he played at least 100 games, Alex hit 30 home runs and drove in 125 runs.
His power numbers may have declined of late, but with his talent and time to repair his mental game, I think Alex might have had another great year if not for the injury.
For someone as talented as Rodriguez, offensive problems are never irreparable. Often it is a mental block that seems to prevent the player from producing at their usual rate.
Working this offseason to refocus, A-Rod hitting at least 25 home runs and driving in over 85 runs if he had been healthy for this entire season would not have been out of the question. Losing Rodriguez means the Yankees lose a potent bat in their offense.
Lastly, many critics have relentlessly attacked Rodriguez for his poor play in clutch situations, namely the postseason. His statistics in the most recent postseason were especially bad.
This criticism may hold weight at times, but excluding the last two years, Rodriguez is a career .302 hitter in the postseason (60 for 199). In 2009, his heroics in the playoffs were a large reason the Yankees were able to advance to the World Series and eventually win it all. In fact, that season was the last time New York won the World Series since 2000, an eternity for Yankee fans.
Could it be that the Yankees might win another World Series only if A-Rod churns out another spectacular postseason? If Rodriguez is out for the entire year, he won't be around to have the opportunity to make big plays for the Yankees offense in the postseason, as he did the last time the Yankees won it all.
Rodriguez's injury means the Yankees lose one of the best players of all time for at least half a season, no questions about it. There are ways to cope with this loss, but it is very possible that no A-Rod could negatively affect the Yankees in 2013.



Read more New York Yankees news on BleacherReport.com