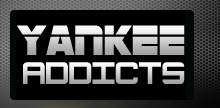 April 20, 2009 · Allen Lopp · Jump to comments
Article Source: Bleacher Report - New York Yankees
Dontrelle Willis is a 6'4″ 225, 27-year-old out of Oakland, CA.
He begin his major league career with the Florida Marlins in 2003.
That year he went 14-6,160.2 innings pitched,142 strikeouts, and a 3.30 ERA.
2004: 10-11, 197 innings pitched, 139 strikeouts, and a 4.02 ERA
In 2005 he was at his best going 22-10, five Shutouts, 236.1 Innings Pitched, 170 Strikeouts, and a 2.63. He also finished second in the CY Young voting and was elected to the All-Star Game.
In 2006 and 2007 his combined 22-27 win-loss record.
In the 2007 offseason he was traded to the Detroit Tigers along with Miguel Cabrera. Then he signed three year, $29 million dollar contract.
Dontrelle Willis' stuff isn't that great. He throws a 91-93 mph fastball and an average change-up and an average slider, but because of the high leg kick it has made his stuff more deceiving.
Because of his herky-jerky style of pitching he has problems controlling his pitches and can't throw strikes and then when he does, they are right down the middle.
Now this happens to pitchers all the time but unfortunately there are special cases when they loss it all together like Dontrelle and now unfortunately to Chien-Ming Wang.
Chien-Ming Wang is 6'3″, 230 and was born on March 31, 1980 in Tainan.
Wang won 19 games in the 2006 season along with the 2007 season. In 2008 his season was cut short by a partial tear of the peroneus longus of the right foot.
This season he is 0-3 with a 34.50 ERA. Cleveland Indians beat the Yankees 22-4, Manager Joe Girardi said, "We have some time. We have a day off I think Thursday and we're going to have to decide what's best for Chien-Ming Wang and the team."
A finesse pitcher with a power pitcher's velocity, Wang relies on the combination of a mid-90s fastball, a sinker, along with a slider, changeup, and splitter.
His sinker which is responsible for his elevation to ace status, has very impressive lateral movement and is thrown at greater than average velocity. Sitting in the 91-94 mph range, his strikeout pitch is a sharp developing slider that closely resembles the fastball coming out of his hand, getting batters to swing ahead of the pitch.
Wang's splitter is decent though he only uses the pitch sparsely when in need of a strikeout or double play.
Wang's pitching style is characterized by efficiency, command of the strike zone, few walks, few home runs allowed but also records very few strikeouts.
Wang works quickly and uses his ground-ball inducing sinker to produce many double plays. This efficiency often allows Wang to maintain a low pitch count deep into games.
Chien-Ming Wang has showed the symptoms of the Dontrelle Willis Syndrome by not being able to throw strikes and walking a unreasonable amount of batters.
This a huge blow to the Yankees organization and rotation.
This disease has increasingly infecting pitchers at random, with no certain race but to relativity younger pitchers then older pitchers.
Their is no proven cure yet but their is being research done at NC State but no conclusions have been found yet.
As for the Yankees they should just give him a couple of more starts and see what happens.