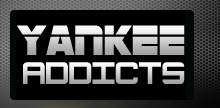 April 27, 2009 · Andrew Stephan · Jump to comments
Article Source: Bleacher Report - New York Yankees
As much as I hate to say it, reports of the Yankees' demise are premature.
Yes, they just got swept by their arch rivals in humiliating fashion. Looking at the bigger picture though, they are 9-9 so far without their best player. Plus, they could have easily won two of the games against the Sox.
In reality, the Yankees are far from done. This series didn't really tell us that much about where they would finish. However, it did give me a chance to look at the squad more closely. Here are the three positives and negatives that I gleaned from this weekend's series:
Positive No. 1: Robinson Cano
Cano looked incredible this weekend, knocking the ball all over Fenway. He hit so well that I now believe that this is the season where he finally fulfills his potential. I think he could very easily hit .330 with 30 homers this year.
This is a big boost for a Yankees lineup that is starting to age. The trio of Teixeira, A-Rod, and Cano could be deadly for opposing pitchers.
Negative No. 1: Bullpen
The Yankees bullpen was a huge negative this weekend. This is an area that the Yankees are certainly going to have to address if they are going to the postseason.
You cannot consistently rely on guys like Phil Coke and Edwar Ramirez. I realize that Brian Bruney is injured, but I'm not confident that he'll be the savior either.
The disappointing thing for Yankee fans has to be that the Red Sox bullpen has been so good. The Red Sox have relied on Ramon Ramirez and Takashi Saito, two pitchers the Yankees could probably have had.
But the Yankees failed to address this area in the offseason, and their hopes now rest on the 39 year old arm of Mariano Rivera.
Positive No. 2: A.J. Burnett
I know that Burnett's line from Saturday was not good, but I watched the game and he was dominant in the first couple of innings. He lost it after that, but he showed promise as a pitcher that could consistently get the Red Sox out. The Yankees haven't had that since Mike Mussina in his prime.
I was skeptical about the Burnett signing; I thought that last year was a fluke for A.J. However, it appears that Burnett will be nasty if he stays healthy.
Negative No. 2: Little Things
The Yankees have got to get the little things sorted out if they are going to beat the Red Sox. This means baserunning, bunting, etc.
A prime example was last night when Ellsbury stole home plate. That is inexcusable for a catcher and pitcher to both be so unaware of the baserunner. Particularly when it is two veterans like Pettite and Posada.
When the Yanks make little mistakes like that, it costs them on the scoreboard and it takes a toll mentally.
Positive No. 3: Big Papi neutralized
David Ortiz was not the same old Yankee killer this weekend, and that's a good sign for New York. If Papi is truly in a major decline, the Red Sox lineup has lost a lot of punch.
It also means that the Red Sox will relinquish the psychological edge that Papi had gained over Yankee pitchers. This could spell more success for the Yanks down the road.
Negative No. 3: Centerfield
From what I saw this weekend, Melky Cabrera and Brett Gardner are not qualified to be starting major league centerfielders. They are both solid enough defensively, but neither is a consistent hitter.
The Yankees' problem is that they have four starting quality corner outfielders (Swisher, Matsui, Damon, and Nady) and zero starting quality centerfielders. I expect them to address this hole at some point in the year.