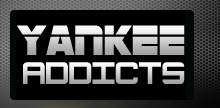 January 9, 2010 · Peter Douglas · Jump to comments
Article Source: Bleacher Report - New York Yankees
Theo Epstein gets more bang for his buck than Brian Cashman.
Temporarily setting aside the century-old Yankees-Red Sox rivalry, let's put into perspective the decade-long Cashman-Epstein rivalry.
There is no rivalry. Beyond Epstein's perennial duping of Cashman in his many faux free-agent pursuits, the former dominates the latter where it really matters: the bottom line.
Comparing each General Manager's potential 2010 payroll with his prospective 25-man roster's 2009 production reveals Epstein's superiority.
If the 2010 Yankees produce at the Championship level they did in 2009, their production will reach $303.4 million. That's a staggering amount, but it outstrips the 2010 25-man payroll (about $202.2 million) by only $101.2 million.
Considering those numbers, the 2010 Yankees will outperform their contracts by approximately 50 percent. Only five players project to under-perform their pay. The most notable are Alex Rodriguez, A.J. Burnett and Mariano Rivera.
Though financially Titanic, it's a well-built team.
If the 2010 Red Sox produce at the same, second-place level they did in 2009, their production will reach $266.8 million. That's just $36.6 million below the Yankees' gargantuan mark, and it out-paces the 2010 25-man payroll (about $135 million) by $131.925 million.
Using these lines, the 2010 Red Sox will outperform their contracts by roughly 97.8 percent. More Red Sox (eight) project as under-performers, including John Lackey, Daisuke Matsuzaka, Jonathan Papelbon and David Ortiz.
Yet Epstein's team produces nearly double its pay. His team is so well built that it can easily absorb those players' failings.
Finally, consider this. Due to several, long-term contracts, Cashman's payroll will be more top heavy and his team less productive in only a few years, and it will stay that way a long time.
Epstein's payroll and team can remain flexible and efficient for years to come because no major player commitments hamstring the franchise.
Yankees and Red Sox fans can continue to debate their team's respective merits, but Cashman and Epstein fans can close the book on this.
There is no rivalry.
(All stats courtesy of Fangraphs.)
Read more New York Yankees news on BleacherReport.com