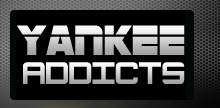 February 11, 2010 · Jefferson Evans · Jump to comments
Article Source: Bleacher Report - New York Yankees
Spring Training is right around the corner, with pitchers and catchers reporting in about one week. There are still some free agents left on the market to snag, and some teams will reach out and give them contracts. But let's take a look at this entire off-season thus far with team by team analysis and also break down all the teams and divisions, along with the winners and the losers of this year's off-season, and if each team has gotten better or worse. This has been a very crazy off-season. This is article 1 of 6. Let's first start with the American League, and what's not better than starting with the AL East.
American League East predicted standings:
1. New York Yankees
2. Boston Red Sox (Win the AL Wild Card)
3. Tampa Bay Rays
4. Baltimore Orioles
5. Toronto Blue Jays
First of all, the New York Yankees are going to make it to the World Series every year for the next couple of years, as will the Phillies. But with Boston's very successful off-season, Boston will and should win the American League Wild Card. Break down of AL East team by team:
New York Yankees:  The Yanks have gotten better this offseason and should again be the top team in the American League. The Yanks are off-season winners.
New York had a set plan in mind, and that plan is to improve and be even better than they were last year, that way they can win another World Series and dominate even more than they did, and continue to do so for the next couple of years. However, the Yankees took a new approach this off-season. They didn't break the bank and go after the most highly ranked free agents. They were on a "budget". The Yanks lost some key free agents this off-season, but it won't affect them enough for them to grieve over it, because the Yanks did what they needed to do in order to replace them.
Off-season moves: Acquired OF Curtis Granderson from Detroit in part of three team trade with Arizona with Detroit getting Phil Coke, and Austin Jackson, and Ian Kennedy to Arizona, signed 1B/DH Nick Johnson, acquired OF Greg Golson from Texas for a prospect, signed OF Randy Winn, re-signed P Andy Pettite, acquired P Javier Vasquez and P Boone Logan from Atlanta for OF Melky Cabrera and a minor leaguer,and signed OF/DH Marcus Thames.
Key  Off-season losses: DH/OF Hideki Matsui (Angels), OF Johnny Damon, P Brian Bruney (Nats), OF Austin Jackson (Tigers), P Phil Coke (Tigers), P Ian Kennedy (D'Backs), Melky Cabrera (Braves), UTIL Eric Hinske (Braves), UTIL Jerry Hairson Jr. (Padres), 1B/OF Shelly Duncan (Indians), INF Cody Ransom, C Jose Molina, P Chien-Ming Wang, P Jose Veras, and OF Xavier Nady (Cubs).
Yes, the Yankees lost a lot of players, but the Yanks reeled in better and key players to replace them with. Damon and Matsui are the two biggest losses. With the loss of Johnny Damon, the Yanks replaced him with Nick Johnson at DH and Randy Winn in left field. Winn is no Damon, but with a Winn and Johnson combo, the Yanks should be fine, and Damon is also a lot more expensive and older. Getting Johnson will definitely help the offense because he has a career .402 OBP, he just needs to remain healthy. Randy Winn will bring speed, but won't hit for power, but he can hit for a decent average and is a good defender. Winn has a career .286 hitter. Adding Granderson makes the outfield very good now. Granderson doesn't hit for a very high average, but has the capability to hit over 30 home runs at Yankee Stadium. Granderson is also very fast, is an all-star caliber player and is a gold glover. Damon's pop will be missed, will be made up in other areas. Thames has pop and should make up along with Winn and Johnson for the absence of Damon. Winn's numbers should also boost now that he has left AT&T Park is has come over to Yankee Stadium. And getting Javier Vasquez and slotting him into the fourth or third spot in the rotation gives the Yanks a very solid all around rotation. Losing Melky, Kennedy, and Jackson might hurt the Yanks down the future, but New York didn't have to give up much for the additions they got this off-season. Trading stud top prospect Austin Jackson sucks for the Yanks, but in order to get Granderson, he had to be dealt. The Yankees are very good, and are even better than they were last year. They will dominate all of baseball again. The Yanks have no significant holes in their ball club, except their ridiculous payroll. The Yanks didn't need to do much this off-season to stay on top and improve. Very good offense, very good pitching, and pretty good defense. I don't see the Yankees making any more moves this off-season, they are probably done. Take a look at what the lineups and pitching rotations SHOULD be:
1. Curtis Granderson CF                                1. C.C. Sabathia
2. Derek Jeter SS                                         2. A.J. Burnett
3. Mark Teixeira 1B                                      3. Javier Vasquez
4. Alex Rodriguez 3B                                     4. Andy Pettite
5. Nick Swisher RF                                        5. Joba Chamberlain/Phil Hughes/Chad Gaudin              
6. Robinson Cano 2B                                      closer: Mariano Rivera
7. Jorge Posada C                                          bullpen: Gaudin, Hughes, Joba, Marte, Mitre, Logan                                        
8. Nick Johnson DH                                                
9. Randy Winn/Marcus Thames LF
bench: Gardner, Golson, Hoffman, Miranda, Pena.
Boston Red Sox: The Red Sox are the second best team in the American League, right behind the Yankees, and will win the AL Wild Card. The Red Sox improved substantially this off-season, and are winners this off-season.
Boston had to get better this off-season, after finally losing to the Angels in the playoffs. They also need to compete with the Yankees, and since the Sox won't win the division, they can only win the Wild Card. With the lose of Jason Bay, Boston was in desperate need of help offensively, and with the money they saved from Bay, they acquired multiple key players. If they can't be the best team in baseball or the AL, they can and will be the second best.
Off-season moves: signed P Scott Atchison, signed 3B Adrian Beltre, acquired P Boof Bonser from Minnesota, signed OF Mike Cameron, signed P Fabio Castro, acquired 3B/INF Bill Hall from Seattle for 1B Casey Kotchman, acquired OF Jeremy Hermida from Florida, signed P John Lackey, P Joe Nelson, and signed SS/UTIL Marco Scutaro.
Key off-season losses: OF Jason Bay (Mets), P Paul Byrd, P Billy Wagner (Braves), P Takashi Saito (Braves), INF Nick Green (Dodgers), SS Alex Gonzalez (Blue Jays), P Miguel Gonzalez, INF Chris Woodward, OF Brian Anderson, OF Rocco Baldelli, and OF Joey Gathright.
The Sox lost a couple of good players and the biggest ones were obviously Bay, Saito, and Wagner; but the Sox brought in lots of key players this off-season and replaced them and did a good job. With the lose of OF Jason Bay, the Sox had an immediate hole in the middle of their lineup offensively.  Since the Sox lost Bay to the Mets, they had to rethink their off-season plan, so they decided to focus on defense and pitching. Bringing in Lackey makes the Sox along with the Yanks having one of the best all around and solid pitching rotations in all of baseball. Slotting Lackey behind Beckett will give the Sox a good 1-2 punch. Scutaro will give the Sox an upgrade at short and he is an average hitter, but a stellar defender. Still a big hole offensively was in existence, so they signed Beltre and Cameron, who both are Gold Glovers. Cameron is getting older but can still play and also has lots of pop and hitting at Fenway will make him hit around 25-30 home runs a season, but the Sox should have put him in left and kept Ellsbury in center cause Cameron is getting older. Beltre is just like Cameron, defensive wizard. Had a terrible time in Seattle at pitcher friendly park Safeco Field. Coming to Fenway will boost Beltre's numbers substantially. He will hit around 25-30 home runs a season in Boston. The Sox had a lot of holes to fill, and they successfully filled them all. The only thing the Sox need to do is to acquire Adrian Gonzalez from San Diego. That would be the perfect fit for both, and the Sox have all the pieces that they would need to acquire A-Gon. Nobody will catch the Yanks and be as good as them for at least a couple of years, but Boston is the closest team to being as good as them, and also did an excellent job filling in all of their needs this off-season. Unlike the Yanks, the Red Sox did open their wallets and spent a lot of money this off-season. Sox don't have many pressing needs or holes, except for maybe one huge standout bat, like A-Gon. I still believe that Gonzalez will eventually end up with the Red Sox, but look for him to be traded sooner than later or possibly the July trade deadline. The Sox are very good defensively, pretty good offensively, and very good pitching. Lets all hope that David Ortiz can produce and come out of his slump that he has been in the last couple of seasons. I don't see the Red Sox making anymore moves this off-season, they are probable done. However, the Sox need to lock up Josh Beckett and Victor Martinez long-term. The Sox might have a six man rotation. Take a look at what the starting lineups and pitching rotation SHOULD be:
1. Jacoby Ellsbury CF                             1. Josh Beckett
2. Dustin Pedroia 2B                              2. John Lackey
3. Kevin Youkilis 1B                               3. Jon Lester
4. David Ortiz DH                                  4. Daisuke Matsuzaka
5. Victor Martinez C                               5. Clay Buchholtz, Tim Wakefield
6. Adrian Beltre 3B                                closer: Jonathan Papelbon
7. J.D. Drew RF                                     bullpen: Bard, Bonser, Delcarmen,
 Okajima, Ramirez, Tazawa 
8. Mike Cameron LF
9. Marco Scutaro SS
bench: Lowell, Hermida, Varitek, Reddick, Lowrie, Hall.
Tampa Bay Rays:  The Rays will be about as good this season as they were last season. The Rays improved a little this off-season but didn't do enough moves or any huge move to put them over the top. They are off-season losers.
The Rays were a bit of a disappointment last year, but with the stacked Yankees and Red Sox, the Rays will always be a disappointment, in fact everyone else in the AL will be. The Rays want to compete, but they have no chance to keep up with New York and Boston.
Off-season moves: signed P Rafael Soriano, acquired C Kelly Shoppach from Cleveland, and signed 1B Dan Johnson.
Key off-season losses : 2B Akinori Iwamura (Pirates), OF Gabe Gross (A's), P Chad Bradford, P Joe Nelson (Boston), P Troy Percival, and P Brian Shouse.
Trading Iwamura was dumb and stupid. He was injured last year, but he is an excellent player with good defense, speed, and can hit. Those moves aren't eye popping, but Shoppach and Soriano were great pickups. The Rays now have an experienced closer in Soriano and will not have to worry about their closer problem, and Shoppach should help offensively and will help with struggling teammate catcher Dioner Navarro. The bottom line is that the Rays are in the AL East, and if they do any damage, I will be surprised. The Rays will be a good team however. Pat Burrell was a huge disappointment last season, and if he performs up to his potential, the offense should be pretty good, along with a healthy 1B all-star Carlos Pena, along with the leadership of Evan Longoria and his bat. The defense should be pretty good to, but the pitching should be pretty weak. After trading Kazmir to the Angels last year, that left a huge hole in their rotation. The rays lost out on 2B Orlando Hudson, who would have been a great pickup for them, who could have then moved all-star Zobrist to be the full-time right fielder. Lets see if the Rays can surprise again like they did two years ago when they went to the World Series and were AL Champs. It is highly unlikely however. I think the Rays might make another move or two before the season starts, maybe even before spring training. I don't think the Rays are done yet this off-season. If the Rays fall out of contention, then look for them to deal some of their players like Crawford, Pena, and Upton. The Rays would be very stupid to deal any of these players and let any of them leave. The Rays should lock these players up long-term. The holes that the Rays still have is at second or right field, so look for them to possibly get either one of those type of player. They could also use another bullpen arm and a starting pitcher. Lets take a look at what the starting lineup and starting rotation SHOULD be:
1. Carl Crawford LF                                1. James Shields
2. B.J. Upton CF                                     2. Matt Garza
3. Evan Longoria 3B                                3. David Price
4. Carlos Pena 1B                                   4. Andy Sonnanstine
5. Ben Zobrist RF                                    5. Wade Davis/Jeff Niemann
6. Pat Burrell DH                                     closer: Rafael Soriano
7. Jason Bartlett SS                                  bullpen: Balfour, Howell, Wheeler
8. Kelly Shoppach/Navarro C
9. Sean Rodriguez 2B
bench: Johnson, Aybar, Joyce, Kapler, Perez.
Baltimore Orioles: The Orioles will definitely be better this year, and will be a lot better than they have been in years, but it doesn't matter, because just like the Rays, Baltimore is in the AL East with the Yanks and Sox. Baltimore did really improve this season and are off-season winners.
The Orioles have the pieces to compete just like the Rays, but they aren't as strong as the Rays, and with that being said, there is no way Baltimore can compete in the AL East division. However, the Orioles should be a very interesting and fun team to watch this season.
Off-season moves: signed 3B/1B Garrett Atkins, signed closer Mike Gonzalez, re-signed pitcher Mark Hendrickson, acquired P Kevin Millwood from Texas for former closer Chris Ray, signed P Will Ohman, and signed 3B/SS Miguel Tejada.
Off-season losses: P Brian Bass, P Danys Baez (Phillies), P Chris Ray (Texas), P Rich Hill (Cardinals), C Gregg Zaun (Brewers), and 3B Melvin Mora (Rockies). 
The Orioles didn't loose to much good talent this off-season, nothing to worry about. Baltimore reeled in some key impact players and leaders and should be able to help the young guys on the team. The offense is pretty strong, and so is it's defense, but the pitching is pretty weak, especially for being in the AL and AL East. With the addition of Tejada though, he is getting older and is losing range at short, but he is going to switch over to third base and should do a great job over there at the hot corner. Tejada will also bring leadership and a veteran presence along with his potent bat. The same goes for Atkins. Atkins did have a terrible year last year, but he does have a career .289 average along with a career .354 OBP, and averages 20 home runs a year with 100 R.B.I.s. The Orioles offense and infield and outfield is set, but the pitching has problems. Millwood brings veteran leadership and was a great pickup, especially to lead a lot of young promising pitchers like Tillman and Guthrie. With the addition of closer Mike Gonzalez, the O's now have a very good closer to shut out and end games, and don't have to worry about finding a good consistent closer. The O's are probably done making moves this off-season, but they could possibly make another move or two. If they do make any more moves, they should go after starting pitching and bullpen help. They did lose out on bringing former Oriole Erik Bedard back. The O's have some very good talent and young guys on their team such as Markakis, Jones, Tillman, Roberts, Matt Wieters, and Scott. This is what the Orioles starting lineup and rotation SHOULD be:
1. Brian Roberts 2B                                    1. Kevin Millwood
2. Adam Jones CF                                       2. Jeremy Guthrie
3. Garrett Atkins 1B                                    3. Chris Tillman
4. Nick Markakis RF                                    4. Koji Uehara
5. Miguel Tejada 3B                                    5. Troy Patton/Matt Albers/Bergesen
6. Nolan Reimold LF                                    closer: Mike Gonzalez
7. Luke Scott/Ty Wigginton DH                      bullpen: Meredith, Johnson, Ohman
8. Matt Wieters C
9. Caesar Izturis SS
bench: Andino, Bell, Aubrey, Wigginton, Montanez, Pie, Turner, Tatum, Snyder.
Toronto Blue Jays: Just like the O's and Rays, won't do anything in the AL East. Blue Jays will be about the same this off-season as they were last season. Didn't do any significant moves or reel in any impact players. Blue Jays are off-season losers.
As I said before, Toronto is just like the O's and Rays when it comes to being in the AL East. It really sucks that these three teams are stuck in the AL East, they won't be able to contribute or compete for a long time, and the O's, Rays, and Jays will all look like bad teams, when in fact they are not, especially the Rays. After the Jays traded their ace and face of their franchise since 1998 one of the best pitchers in all of baseball, Roy Halladay, the Jays don't have much to look for, except for some young promising guys.
Off-season moves: traded ace pitcher Roy Halladay and $6 million to Philadelphia for three prospects including pitching stud prospect Kyle Drabek in part of four team trade with Seattle and Oakland and shipped on the prospects to Oakland for stud 3B prospect Brett Wallace, acquired P Dana Eveland from Oakland, signed P Kevin Gregg, signed SS Alex Gonzalez, re-signed SS John McDonald, acquired P Merkin Valdez from San Francisco, signed C John Buck, acquired Hoffpauir from Chicago, and traded P Brandon League to Seattle for P Brandon Morrow.
Off-season losses: P Roy Halladay (Phillies), P Brandon League (Mariners), C Rod Barajas, C Michael Barrett, 1B Kevin Millar (Cubs), and Marco Scutaro (Boston).
Bottom line is that trading away an ace and face of the franchise is gonna hurt the team, but they did get some key prospects in the process who should definitely help them in the future, Brett Wallace and Kyle Drabek. However, I think the Jays could have gotten more and better talent, but they had to trade Halladay this off-season cause his time to leave was here and he wished to go to a contender. The Jays have some pretty good offense, defense, and average pitching. The Jays do have some young studs and prospects that will be fun to watch and develop. The reason the Jays are losers is mostly because they are in the AL East but that isn't their fault, and for the fact that they traded away Halladay, which kinda wasn't really their fault either. But they could have gotten some bigger key free agents and players if they really wanted to, but they didn't. But the Jays did get some good players, and did a fairly good job filling in some of their team's holes. To bad they traded Alex Rios away, or more like just gave him away. Yeah he had a down year last year, but he is still done, and they got absolutely nothing for him, they could have still used Rios, along with his speed, defense, and pop. Some of the young talent that should be very fun and interesting to see and develop is: Kyle Drabek, Brett Wallace, Adam Lind, Brett Cecil, Jesse Litsch, David Purcey, Ricky Romero, Travis Snider, Marc Rzepczynski, and Brandon Morrow. Brandon Morrow still hasn't played up to full potential, but he has a lot of upside and potential. With Vernon Wells out most of last season due to injuries, and with his struggles the last couple of seasons that have hurt the Blue Jays franchise. But if he can come out healthy, stay healthy, and can get back on track offensively, he should be a huge presence and threat in their lineup. Also having Encarnacion all season should help them as well. With some of these young guys having a season under their belt, will help them and make them even better and more mature. The Jays are probably done this off-season and won't make any more moves. However, the Jays could use possibly another outfielder, and maybe some pitching help. The Jays don't have themselves an ace pitcher. I could see the Jays having a six man rotation. This is what the starting lineup and pitching rotation SHOULD be:
1. Alex Gonzalez SS                                  1. Dustin McGowan
2. Travis Snider LF                                    2. Shaun Marcum
3. Aaron Hill 2B                                        3. Jesse Litsch
4. Adam Lind DH                                       4. Brett Cecil
5. Vernon Wells CF                                    5. Ricky Romero
6. Lyle Overbay/Ruiz 1B                             6. Brandon Morrow/Kyle Drabek                            
7. Edwin Encarnacion 3B                             closer: Kevin Gregg/Jeremy Accardo
8. Jose Batista RF                                      bullpen: Accardo, Downs, Frasor,
 Purcey, Richmond, Valdez,                                                                                 Rzepczynski, Valdez, Eveland, Purcey
9. John Buck C                                           
bench: Dopirak, McDonald, Hoffpauir, McCoy, Ruiz.
Read more New York Yankees news on BleacherReport.com