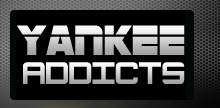 March 19, 2010 · Doug Rush · Jump to comments
Article Source: Bleacher Report - New York Yankees
Going into spring training, the Yankees were trying to figure out who their fifth starter was going to be.
The two favorites going in were Phil Hughes and Joba Chamberlain, with Chad Gaudin, Sergio Mitre and Alfredo Aceves as the longshots.
It's already the middle of March, halfway through the 2010 spring training season, and I am making a case now as to who the fifth starter should and needs to be starting now and going into the future.
Hughes needs to be made the fifth starter and Joba to be put back into the bullpen for good. It's where he really belongs.
If you look at the numbers head to head between Hughes and Chamberlain, it's obvious as to who is winning the competition.
Hughes has pitched 8 2/3 innings and only allowed two earned runs with an ERA of 2.08, which is very good numbers so far in the spring.
Joba on the other hand, has pitched 6 2/3 innings and allowed 12 runs with an ERA of 16.20, which is really bad, considering Joba had the fifth starter job just last season.
I know the Yankees have envisioned Joba to be a starter since the minor leagues, but really, it's not working out in the major league level.
We all know what Joba can do as a reliever in the majors though- he's flat out dominating.
All you have to do is go back to the end of 2007, where it took pesky Cleveland midges to force Joba into giving up a run in Game Two of the ALCS against the Indians. Not a batter, bugs. He was that dominant, and leaving young Joba out there at the time is still something Joe Torre admits was his own mistake.
In the beginning of 2008, Joba went back to being the Joba of 2007, just overpowering hitters with his fastball and slider combination.
But then one by one, Phil Hughes got hurt. Ian Kennedy got hurt. Chien-Ming Wang got hurt. The Yankees were forced to bring in a washed-up Sidney Ponson.
All of these meant one thing, Joba's transition from reliever to starter was going to begin in season.
In the beginning, it started out rocky. He did show glimpses of being unhittable, like that game at Fenway Park back in July of 2008 where he outdueled Josh Beckett for a 1-0 win.
But in a game against the Rangers in Arlington, something happened to Joba's arm, as he went on the D.L. for almost the rest of the year.
When Joba returned to being a starter for 2009, his arm wasn't pumping out the strong fastballs and overpowering sliders. Instead, Joba was walking guys and getting into high pitch counts.
By the fourth or fifth inning, Joba would be already out of the game. Why? His stuff isn't made to go long distances. We're seeing the same trend again in the spring of 2010.
Now some will throw the case of when Joba is a starter, he has to harness his pitches and he can't throw 98 every time. OK, that's true, he can't.
But he also isn't coming anywhere near 95 at times. And also, he's not coming close to the strike zone, which again, gets his pitch counts up because the opponents are now able to lay off average stuff.
Whether it be Joba's youth and inexperience or his mental stability and thinking too much on the mound, something needs to be done with this guy before his career becomes a waste.
So I am going to make the suggestion very easy and clear. Joba is an average and at times mediocre starter. But he's a dominant reliever.
Put Joba back in the bullpen as Mariano Rivera's setup man and let Hughes be the fifth starter, like everyone in the Yankees system envisioned Hughes being since he was their top minor league prospect.
This is in no way to criticize or punish Joba. In fact, I am a huge Joba fan. I think he's extremely fun to watch. But watching him struggle as a starter is torture.
Put Joba back in the bullpen for good. Not for the short term, but permanently. And if Joba is groomed to be the future closer whenever Mariano decides to retire, then that makes the process easier, rather than trying to find someone off the free agent market.
Making Joba a reliever will only make everything easier for the Yankees moving forward.
Read more New York Yankees news on BleacherReport.com