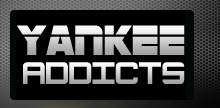 April 21, 2009 · Chad Matejicka · Jump to comments
Article Source: Bleacher Report - New York Yankees
In watching the Yankees first four home games this past weekend, you cannot help but notice the many lower level patches of seats which are vacant for each and every game.
Were the Yankees really serious in believing that even hardcore fans would pay anywhere from $300 to $2,625 a seat just to watch a baseball game?
Corporate America cannot even afford these outrageous prices.
Fans are left with no other choice but to stay home or look around for middle or upper deck seats. The problem however is that these seats have already been purchased by season ticket holders who could no longer afford their lower level seats.
This has resulted in fans within these levels to be relocated to different sections that they have been in for years or a reduction in games within their current seats.
Prices should have remained the same or, at the very worst, slightly increased in line with general inflation. The Yankees could have then counted on a sure sellout for every home game and a great transition across the street for everyone.
Instead, the Yankees have made many miss out on what used to be a great American tradition.