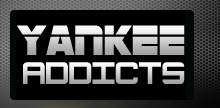 May 20, 2009 · A.J. Martelli · Jump to comments
Article Source: Bleacher Report - New York Yankees
Currently on an absolute tear, the New York Yankees kept the beat going on Wednesday night with a huge 11-4 win over the Baltimore Orioles, moving their winning streak up to eight games.
Nick Swisher, Robinson Cano, and Melky Cabrera clubbed back-to-back-to-back home runs in the second inning, powering the Yankees to a 4-0 lead early in the game.
For Swisher, it was his ninth round tripper on the year and first in the new Yankee Stadium.
"It was great to finally get one here," he said to the media after the game.
"I don't care if it squeaked out or went way out, I'll take it. It's funny, Tex and A-Rod have been doing a lot of it, and it's cool for me and Robbie and Melky to do it. We're having fun. I think having fun creates winning."
The Yanks scored their first run of the game with an RBI double by Mark Teixeira, and tacked on an additional six runs in the bottom of the eighth.
In the six run eighth, Cano singled to score Alex Rodriguez, Cabrera singled to score pinch-runner Ramiro Pena, and Kevin Cash hit a sacrifice fly to score Swisher.
Derek Jeter capped off the inning with a two-run double to score Cano and Cabrera, and Johnny Damon reached on an error allowing Jeter to score, completing the Yankee offense.
Phil Hughes got the nod for the Yankees and tossed a decent game from the mound. He went five innings, and gave up three earned runs on six hits. He walked only one batter and racked up a career-high nine strikeouts.
"He pitched a pretty good ballgame and really had to work," Yankee skipper Joe Girardi said after the game.
"He's a guy that has good stuff, attacks the strike zone, and can wiggle out of jams."
Hughes was in a first and third, nobody-out jam in the third inning, but was able to get out of it.
He struck Adam Jones out swinging, and then proceeded to get Nick Markakis looking and catch Brian Roberts stealing for a strike-him out, throw-him out, inning-ending double play.
"The double play was key, and it was huge to get out of it," Hughes said.
"It was nice to get it together, and put a few quality innings together. The pitch count was a concern, but we got the win and that is what matters."
Hughes threw 89 pitches over the five innings he was on the mound.
The O's were able to score three runs off Hughes, receiving a two-run homer from Ty Wigginton in the top of the fourth and a solo homer from Jones in the top of the fifth.
Nolan Reimold secured the final run for the O's in the top of the ninth, a solo homer into Monument Park, his first career home run off Mariano Rivera.
Hughes gets the win and improves to 2-2 on the season.
O's starter Jeremy Guthrie takes the loss and falls to 3-4.
Alfredo Aceves and Phil Coke each recorded a hold, and Rivera, who entered the game in a save situation, nailed down save number eight.
The Bronx Bombers will look for a sweep and their ninth victory in a row tomorrow night at 7:05 p.m. against Baltimore.
The Yanks' Joba Chamberlain (2-1, 3.76 ERA) will take on Adam Eaton (2-4, 7.93 ERA) of the Orioles.
Media Credit: YES Network, Yankees.com