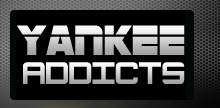 May 12, 2009 · Harry Raymond · Jump to comments
Article Source: Bleacher Report - New York Yankees
As the 2009 summer approaches, the most shocking, sensational, jaw dropping story in sports from the 2008 summer has still gone unnoticed. It had every aspect of a classic mafia movie: drugs, wired informants, even murder. Sport Illustrated writer Phil Taylor wrote it was a story straight out of a "Martin Scorcese movie." Sounds like an intriguing story but no one seemed to care. But you should care and so should the NFL.
Playing the role of the snitch in this saga is not Al Pacino but New England Patriots' right tackle Nick Kaczur. An important starter in the Patriots 2006 AFC championship run, Kaczur was arrested in April for illegal possession of the prescription painkiller OxyContin. In June, the Boston Globe reported that Kaczur cooperated with federal authorities in an undercover sting operation against alleged drug dealer Daniel Eskala. According to an anonymous federal agent, Kaczur wore a wire during three drug transactions. Kaczur has denied involvement with any sting operation, but Eskala is currently on trial for three counts of possession and intent to distribute OxyContin.
In another June incident, convicted steroids dealer David Jacobs and his girlfriend were found dead from bullet wounds in their Texas home. Just weeks before his death, Jacobs had supplied NFL investigators with a list of NFL players who had bought steroids from him, along with e-mails, checks, and other evidence that supported his claims. Jacobs explained his cooperation with investigators by saying he had made it his personal mission to "clean up the sport." Like in any good Sopranos episode, our first reaction is someone "took care him." But police have yet to find any evidence of a hit and now believe it was a murder-suicide.
Both of these horrifying and movie-like stories point to a disturbing drug culture in the NFL, yet the media and most Americans have somehow completely ignored these stories. Instead, the back pages of last summer's newspapers were filled with stories of A-Rod learning kabala from Madonna (and it turns out she was nothing more than a friend). I understand people are as tired as I am about steroids stories. Manny Ramirez, the Mitchell Report, Lance Armstrong and many others have supplied enough drama to tire out the Energizer bunny, but does that mean the NFL gets a free pass?
Last summer, Barry Bonds sat at home hoping his agent could beg a team into giving him a contract. Mark McGwire sits by the phone every January hoping he will get a call from Cooperstown that he has been rightfully enshrined in the Hall of Fame. Roger Clemens still sits in a courtroom hoping to clear his name when he has only been found guilty by the court of public opinion. Last summer, sprinter Marion Jones sat in a California prison with her five gold medals stripped and a 6-month sentence to serve. While none of these world-class athletes have ever tested positive for performing enhancing drugs, they each sit humiliated, villanized, or imprisoned.
At the same time, safety Rodney Harrison played in the Superbowl soon after admitting to HGH use and linebacker Shawn Merriman made the Pro Bowl the same year he tested positive for steroids. After nearly being forced into the witness protection program, Kaczur went to Patriots training camp like nothing had happened and Kaczur was the starting right tackle for 14 games last season. The Patriots called it an "internal issue," which, translated, means Kaczur will face no discipline. And the list of NFL players who bought steroids from Jacobs has not been and most likely never will be released.
Football will never have the same media scrutiny as baseball. Football makes a dozen rule changes every offseason, which makes it impossible to compare John Elway to Johnny Unitas. They played different games not just in different times. Baseball has only made a couple of rule changes in the last 100 years, which makes statistics sacred, and anything that taints them is simply unacceptable. Fans of the national pastime demand that if today's players take supplements they should be the same ones that Babe Ruth did (beer and hot dogs) and that this preserves the purity of the game.
With its natural immunity, the NFL has adopted a new policy when it confronts controversy. When controversy strikes, do nothing (or do just enough as in the Spygate incident) and then hope something else distracts everyone. It's working and last summer's Madonna-ARod coverage proves that. This kind of apathy has not been seen since the mid-nineties brought on baseball's steroids era. Maybe the fans acceptance of the current NFL drug culture is not the fault of football's short history or the apathy of the media. Maybe it is because football has never been healthier economically and no one wants to destroy a good thing. However you explain the NFL's apathy, a disturbing question still lingers. If football's version of Goodfellas cannot change the drug culture of the NFL, what will? If you are football fan, opening your eyes might be a start.
*a version of this article appeared in the Colgate Maroon-News (www.maroon-news.com)