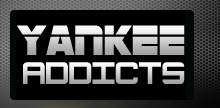 March 6, 2010 · Mike A · Jump to comments
Article Source: Bleacher Report - New York Yankees
Say what you want about the Yankees.
You can say they buy all their players.
You can say that any team could be successful if they broke the bank every season like the Yankees.
However, you would be wrong.
Because just like the "underdog" Rays, Marlins, and Twins, the Yankees also develop talent.
In fact, it was not big free agent signings that won the Yankees four World Series in five years from 1996-2000, but it was development of players like Derek Jeter, Jorge Posada, Bernie Williams, Andy Pettite, Mariano Rivera, and others that helped them capture World Series glory.
There's no denying the fact that the Yankees spend a bankload of money. However, what many people don't seem to realize is the failure rate of free agents that decide to sign with the Bronx Bombers.
Carl Pavano, Kei Igawa, Jason Giambi. These are just a few of the recent Yankee free agent signings that haven't worked out. The Yankees have probably gotten more disappointment then production from their free agent signings.
While the Yankees have enjoyed their fair share of success in the free agent market, so have many other major league teams. However, for some reason people seem to think that the Yankees are the only team that has thrived in free agency.
Free agency plays a big role in today's game, and all 30 MLB teams make moves during it. Even though the Yankees often make a big splash in free agency, it's not like they're the only team that does so. So if you're going to hate them because they spend money, then there are a few more teams that you should consider putting on your hate list.
In fact, even last year during the Yankees' World Series run, home grown talent played a huge role. Former Yankees prospects like Robinson Cano and Derek Jeter had career years that helped the Yankees reach the pinnacle of baseball. During the playoffs, other home grown Yankee arms like Andy Pettite and Mariano Rivera were absolutely lights out.
Countless Yankee greats came from the farm system.
From Mickey Mantle to Derek Jeter, Whitey Ford to Mariano Rivera, the Yankees have always had a knack for developing great players, and that is why they have 27 rings.
They say money can't buy you happiness, and it sure as hell can't buy you 27 championships either.
Read more New York Yankees news on BleacherReport.com