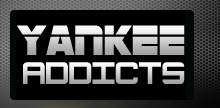 April 20, 2009 · Heartbeat Of The Bronx · Jump to comments
Article Source: Bleacher Report - New York Yankees
April 20th represents many things to different groups of people.
To Yankees fans, it should mean the day that one of the most beloved Yankees in history was brought into this world.
Don Mattingly, otherwise known as "Donnie Baseball" or "The Hitman," is 48 years of age today.
Mattingly is unfortunately forced to share a date of birth with Adolph Hitler, as well as a holiday only celebrated by the most degenerate of youths.
Donnie Baseball has been the idol of many Yankees fans since almost before they could talk, and I certainly fall into that category.
It is easy to figure out why, as Mattingly was one of the most talented, classy, and respected players to ever wear a Major League uniform.
During the first four years of his Yankee career, "The Hitman" collected 119 home runs, 483 RBI, 3 gold gloves, 3 silver sluggers, and an AL MVP award. He appeared well on his way to enshrining himself amongst the Cooperstown elite, as he also sported a .337 batting average over that span.
A well-documented back injury prevented Mattingly from ever maintaining his dominance over the league, and his career began to decline.
Even while in relentless pain and barely half the player he once was, Mattingly produced a .417 average, 6 RBI, and 1 timeless home run during his only playoff series in 1995.
Gary Thorne's home run call still flows through my mind as if it happened yesterday: "OHHHH, hang on to the roof!! Goodbye!!! Home run, Don Mattingly!!!!"
Mattingly deserves all of the love and praise that is thrown in his direction, and will forever live on in Yankees lore. His No. 23 will never be worn again in the Bronx, and his moustache will never be replicated.
Happy birthday Donnie Baseball. I hope that there are many more to come.
http://heartbeatofthebronx.blogspot.com/