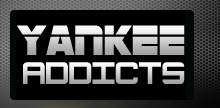 December 30, 2009 · Roy Levine · Jump to comments
Article Source: Bleacher Report - New York Yankees
When the Yankees signed Nick Johnson as DH for approximately $5.5M base pay, I thought that it was a very solid move. Nick Johnson "keeps the line moving," wears down starting pitchers and gets on base, which is not a bad think in a lineup including Rodriguez, Teixeira, and Posada behind him.
Very shortly thereafter, the Yankees traded Melky Cabrera and two prospect pitchers for Javier Vazquez. Nothing wrong with that trade either.
But the thought occurs to me that if Melky Cabrera was expendable, might the Yankees have been better off foregoing the signing of a DH and put the money into left field? I assume that the Yankees have around $2 million to spend. They could have combined the money going to Johnson with the balance in their budget and signed Mark De Rosa.
De Rosa would have been ideal for the Yankees in a lineup system that had no every day DH. He could have started most games in Left Field and then rotated to third base when Rodriguez was the DH, leaving Brett Gardner or Jamie Hoffman in the outfield as replacement players.
If Nick Johnson were not on the Yankees, I imagine that Rodriguez and Posada would share 50 games at DH, with another 20 between Teixeira, Swisher and Jeter. Now, when those players get their rest, either they or Nick Johnson will be benched.
Yankees GM, Brian Cashman, commented early that Juan Miranda could play DH. His cost would have been around a half a million dollars. There was some logic in that idea. Maybe Miranda gets 70 games as DH and a few at first. The balance of the games are played with Rodriguez, Posada, Swisher, Teixeira and Jeter as the DH.
Remember, this gives you Mark De Rosa in left field instead of Gardner and Hoffman, who serve as defensive replacements and pinch runners. I think Mark De Rosa and Juan Miranda in a limited role would be better than Nick Johnson and the platoon of Brett Gardner and Jamie Hoffman.
Read more New York Yankees news on BleacherReport.com