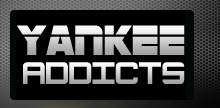 February 21, 2013 · Joel Reuter · Jump to comments
Article Source: Bleacher Report - New York Yankees
Until he is traded or departs in free agency, the impending breakup between David Price and the Rays will continue to make headlines in Tampa Bay and throughout the MLB.
The most recent piece to the Price puzzle, however, involves the Yankees and what may be proof of a needed culture change in New York for the team to succeed moving forward.
It is no secret that players love playing for the Rays organization and manager Joe Maddon, and Price echoed those sentiments in a recent article by Jon Morosi of Fox Sports:
"Joe wants us to be comfortable in our own skin. He doesn't care what we do in the locker room. He doesn't care what type of music we play, how loud we play it. He doesn't care what we wear to the field, because that's not going to help us be better baseball players. That (would give) us more reasons to mess up, more reasons to get a fine, more reasons to be mad about coming to the ballpark because you have to wear slacks and a collared shirt in 100-degree weather."
Like any professional athlete (or grown man for that matter), Price is no fan of the harsh rules some teams employ in the clubhouse and on the field:
"It's a joke to me, that I had less rules in college than I would on some major league teams. That's not my style, man. I couldn't do it on some of these teams I hear about. I couldn't do it. I'm a grown man."
One team that immediately jumps to mind when thinking of an excessively rule-laden team is the Yankees, who have their well-known rules regarding facial hair and long hair.
Morosi pointed out to Price that being traded to or signing with the Yankees would mean cutting his beard among others things, and his response was an interesting one to say the least.
"I wouldn't stay there very long then. I wouldn't sign a long-term deal there. Those rules, that's old-school baseball. I was born in '85. That's not for me. That's not something I want to be a part of."
How seriously Price would stick to that should the Yankees come calling with a $200 million deal remains to be seen. However, could this be a sign of a bigger issue for the Yankees moving forward?
Of the Yankees core of players, only Robinson Cano (30), Brett Gardner (29), Phil Hughes (27), Ivan Nova (26) and David Robertson (28) will be 30 years old or younger this coming season.
Cano is a free agent at the end of the season, and while it's hard to imagine the Yankees letting him walk, adding another $100-million plus contract to the books won't exactly help the Yankees' long-term financial issues.
Looking to the future, the Yankees have some nice prospects in Tyler Austin, Mason Williams and Gary Sanchez, but one way or another, the team will need to undergo a wide-scale re-tooling.
They will likely always have money to throw around, and there will be money coming off the books in waves in the years to come, but a big payroll may not be enough anymore for players to choose the Bronx.
Price may be in the minority, but he may also be a representation of a new era of players. An era that will value freedom in the clubhouse and an enjoyable atmosphere as much as they do the number of zeros at the end of their salary.
If that is in fact the case, the Yankees may need a full-scale culture change if they are to continue to land the markets to free agents and rank among the best teams in the league.
Read more New York Yankees news on BleacherReport.com