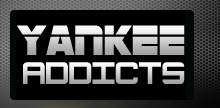 November 9, 2010 · Steven Simon · Jump to comments
Article Source: Bleacher Report - New York Yankees
The 2010 American League Gold Glove winners were announced today, and the two big stories were Ichiro Suzuki and Derek Jeter. Suzuki tied the record for consecutive Gold Gloves by winning his 10th straight, while Derek Jeter won his fifth Gold Glove Award.
Ichiro is an excellent fielder and very deserving of the award, but what about Jeter? Was his defense this year really worthy of the Gold Glove?
The Argument for Jeter
Jeter played in 151 games in the 2010 season, and during that time, he committed only six errors; this gave him a fielding percentage of .989. (This was the lowest total number of errors Jeter has committed in his career and this was also the highest fielding percentage of Jeter's career).
Of all Major League Baseball shortstops who played in a minimum of 110 games, the six errors that Jeter made was the fewest.
In addition to consistently fielding the ball cleanly this season, Jeter was also a part of 94 double plays. This is the fourth highest mark of his career, only lower than the 2004, 2005 and 2007 season.
Double plays are a pitcher's—and a team's—best friend, and Jeter's ability to turn them played a big part in his team's success as they are the perfect way to kill an opposing team's rally and keep a pitcher's pitch count down.
The Argument Against Jeter
Even Yankee fans agree that Jeter doesn't have the defensive capabilities that he used to, and that's understandable; he's not a 24-year-old kid anymore.
The most likely reason that Jeter posted his highest fielding percentage this season is because he just wasn't getting to the tougher plays anymore. If you were to look at Jeter's fielding percentage, you can almost see the tale of his diminished range.
It starts out high (when he is young and able to make the tough plays), then gets lower (as he ages but is still getting to the tough plays, but isn't able to complete them anymore), and finally it rises again (since he is older and no longer capable of getting to the harder hit balls).
Jeter had 553 defensive chances in 2010; that is the lowest of his career. From 1996 to 2002, Jeter averaged almost 100 more defensive chances per season. He even posted 700-plus defensive chances in two of those years.
Defensive chances weren't the only career worsts he posted this season. Jeter's ranger factor per game (putouts plus assists/games played) was also at a career low. In 2010, he posted a range factor per game of 3.62 while the league average was 4.36.
Finally, using sabermetrics to analyze how many runs Jeter's defense saved or caused (with 0 being the average by neither helping or hurting the team), we find that Jeter was 13 below 0. This means that Jeter's defense caused 13 more runs to score then the average MLB shortstop would have caused.
Conclusion
It is pretty evident that, almost across the board, Jeter's defensive stats are down. He simply does not have the range or ability he used to; and who among us finds this as a surprise?
After all, he is turning 37 this coming season. How can we expect him to still be the defensive star he was 10 years ago? The answer is we can't, but we also don't.
While Yankee fans may be upset with his lack of range they aren't surprised. But, just because we are not surprised by his diminished range, doesn't mean he is deserving of a Gold Glove.
In all likelihood, the award was given to Jeter out of respect, and while I understand the theory of continuing to promote one of the biggest stars in the MLB, Jeter is not deserving of the Gold Glove.
How can we ever come to appreciate new, younger talent when we refuse to let go of the stars from yesterday? Jeter is a great player who still has a tiny bit of fuel left in his tank, but he's not a Gold Glove defender; and the managers/coaches of the MLB should not be giving him an award because of what he once was.
Ultimately, I'm disappointed that the Gold Glove was giving to Jeter because this would have been an excellent opportunity to introduce baseball fans to a less familiar face and one who was more deserving of the award.
Jeter's a great player but he was not the best fielding shortstop in the American League this year.
Read more New York Yankees news on BleacherReport.com