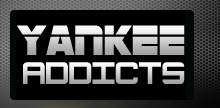 April 19, 2013 · Joe Giglio · Jump to comments
Article Source: Bleacher Report - New York Yankees
Derek Jeter's reaction to an ankle fracture suffered during the 2012 American League Championship Series was typical of the team captain and 17-year veteran: He was determined to be ready for Opening Day 2013.
Of course, as we chronicled during Spring Training, a setback occurred in Jeter's comeback from ankle surgery. There would be no Opening Day for Jeter in 2013. In fact, the inability to do much more than hit and field grounders made it unlikely for the 38-year-old shortstop to rejoin the Yankees before May.
On Thursday, that timetable was pushed back further due to a small crack found near the area of the original ankle injury. If all goes to plan now, Jeter could return sometime after the All-Star break.
While it's impossible to know for sure, the original goal of Opening Day seems to have played a role in the new crack and setback.
Yankees general manager Brian Cashman reiterated to MLB.com on Thursday that Jeter did nothing wrong, followed doctor's orders and did not push the rehab process further than recommended upon surgery and healing.
The new crack seemed to happen over the course of weeks and months, as opposed to a fall or twist sometime over the course of the last week. Attrition on the surgically repaired ankle is to blame, not another accident.
Of course, resting and taking more time to allow the ankle to strengthen itself during Spring Training may have allowed Jeter to begin his conditioning in April and return by early May.
Upon arriving in Tampa in early February, Jeter went to work. Slowly and cautiously, of course, but he was on his feet, taking stationary grounders and working his way back into baseball shape for the day running could commence.
Now the Yankees and Jeter must back off, entrusting the shortstop position to the tandem of Eduardo Nunez and Jayson Nix.
When it comes to injuries in professional sports, every athlete is different. Some heal quickly, some take longer. Jeter has been an extremely durable athlete during his professional career.
Last season, despite playing the demanding up-the-middle position of shortstop, he appeared in 158 games, including 66 of the last 67, as New York tried to hold off Baltimore in American League East. Outside of a dislocated shoulder in 2003 and calf strain in 2011, Jeter has never played in less than 148 games in a season since 1996. His ability to recover and play through minor injuries has been remarkable, leading to a large number of plate appearances and the 3,000-hit plateau.
In fairness, all athletes feel pain on a daily basis. Baseball, which requires day-to-day competition, is different than the physical toll of other sports, but unique because of the volume of games.
Toughness, both mental and physical, has been one of Jeter's greatest attributes since his arrival in New York in the mid-'90s.
It clear, despite setbacks and a delayed Grapefruit League debut, that Jeter was toughing out his rehab.
The setback could have happened to anyone, but the history of Jeter's competitive nature makes it likely he pushed himself too hard, too fast during this process.
Should the Yankees have done more to keep Jeter from re-injuring himself? Comment below, and follow me on Twitter or "Llke" my Facebook page to talk all things baseball!
Read more New York Yankees news on BleacherReport.com