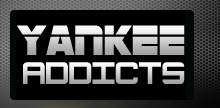 October 13, 2011 · Kyle Vassalo · Jump to comments
Article Source: Bleacher Report - New York Yankees
co-star Rachael Taylor in Miami.
Was the girl-girl action a sign that Kelly is into chicks exclusively, partially or just shooting a scene for the show? Maybe, maybe not. The fact of the matter is, nobody really cares.
Kelly could have easily faded into WAG irrelevancy after her and Jeter split. With this move, she catapulted herself into WAG royalty.
Odds are she's playing a role in the show. It seems far more likely that she's doing a scene from the show that required the kiss rather than the possibility that she is in a full-fledged, public lesbian relationship with one of her costars.
Fantasy crushing, I'm aware. For those of you who are imagining that this is the 2011 version of one super-hot girl consoling another super-hot girl after said girl breaks up with her baseball icon boyfriend, that may be a little far fetched as well.
The only Angel left out of the kiss shed some light on the situation. According to E!, who also provided the lovely picture seen above on their site, Annie Ilonzeh said, "Someone's going to be a lesbian. We're going to have a full-fledged coming out party for one of the Angels."
It seems as though the show is giving the people what they want. If Kelly is half as awesome as her character appears to be, it's hard to imagine that she's going to have any trouble rebounding from Jeter.
She's already captured the hearts of men across America and will certainly have suitors if she chooses to head the other direction.

Read more New York Yankees news on BleacherReport.com