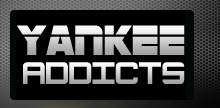 September 16, 2010 · Andrew Jordan · Jump to comments
Article Source: Bleacher Report - New York Yankees
Last night, Derek Jeter created one of the most controversial moments of this entire baseball season by pretending to get hit by a pitch from Tampa Bay Rays pitcher Chad Qualls and was awarded first base.
With a national TV audience and with this game being in the middle of a heated pennant race, Rays manager Joe Maddon found himself ejected before Yankee center fielder Curtis Granderson hit a two-run home run to give the Yankees a 3-2 lead.
However, the Rays did not allow this incident to deter them, as Rays Designated Hitter Dan Johnson hit a two-run homer of his own against Yankee pitcher Phil Hughes to give the Rays a 4-3 lead and eventually a win by the same score.
This win gave the Rays first place in the American League East by half a game over the Yankees.
But following the game, there has been some major criticism toward Jeter over faking getting hit on his hand by the pitch.
But there is too big of an outrage over this little incident.
First off, I understand Jeter is a role model for American children for what he has done in his career and he is one of the greatest baseball players of all-time.
But, one must remember that the Yankees are in the middle of a huge pennant race, as they were facing their biggest competitor and down by one in the top of the seventh inning.
And when Jeter got hit, he made sure that he milked his "injury" enough to get onto first base and help his team.
Considering how great of a teammate he is, Jeter wasn't going to tell umpire Lance Barksdale that he wasn't hit; he was going to take his base.
Add that in with the fact that the Yankees did not win the game from this incident, one must really wonder why we are making such a big deal out of it.
At least Jeter did not do as bad as some other athletes from the last couple of years in terms of cheating.
At least he wasn't like Thierry Henry, who "handed" France a spot in the World Cup after his handball against Ireland in a World Cup qualification playoff last year, causing a worldwide outrage that called for Henry to be suspended for part of the World Cup.
Or, Jeter was not like Gaylord Perry, who doctored his way into the Hall of Fame with illegal pitches throughout his career.
And, Jeter was not like the Pakistani Bowlers who face a potential death penalty after accepting bribes to make inaccurate pitches during cricket games.
Instead, Derek Jeter has suffered enough with the Yankees losing this game, and at the end of the day, we should not make a big deal out of nothing.
Read more New York Yankees news on BleacherReport.com