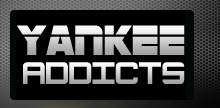 December 13, 2011 · Kyle Vassalo · Jump to comments
Article Source: Bleacher Report - New York Yankees
Girls lucky enough to shack up with Yankees legend Derek Jeter should feel honored that they are being given the opportunity to do so. According to Emily Smith and Tara Palmeri of the New York Post, Jeter has even made a habit of sending off his one-night stands with a little autographed memorabilia upon exiting his bachelor pad.
Is this a scumbag move? He exercises it so often that, according to the New York Post article, he unknowingly pulled this little act of kindness twice on the same girl.
Even so, this is a stand-up move by Jeter. He's showing a medley of lucky women the night of their lives and giving them something to remember him by. Would it be better if he shoved them out of the door with nothing but the memories of Jeter?
There are many who will take exception to the alleged playboy lifestyle of this Yankee great, but why? Just because he isn't looking for a relationship and gives out parting gifts to the women who sneak up to his room doesn't mean he's a bad guy. He's single, and even though we don't see him in the public eye as much as other athletes, it's hard to fault him for hooking up his flings with one-night stands.
If the girls who get a signed baseball end up feeling cheap for being given "gifts" for their services, they need to take some time to reflect upon themselves. They had to know what they were getting into when they went up to his room. Were they really expecting to be Mrs. Derek Jeter or the next Minka Kelly?
The lucky recipients of the Jeter memorabilia should view it as a token of gratitude to help remind them of what is likely the biggest accomplishment of their lives, rather than a cheap going away present from a sleazy pro athlete.
Read more New York Yankees news on BleacherReport.com