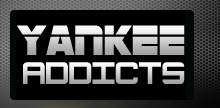 June 14, 2009 · Paul Sievers · Jump to comments
Article Source: Bleacher Report - New York Yankees
Multiple sources have reported today that Yankees' shortstop Derek Jeter has tested positive and will serve a 50-game suspension for performance enhancing drugs.
Our sources have confirmed that the positive test was for a designer steroid known simply as "the glue."
"The glue" does not help develop a player's speed or strength, nor does it help players recover from injury. In fact, "the glue" does not increase physical performance at all.
"The glue" is specifically designed to enhance an athlete's intangible ability to do all the "little things."
While numerous steroid admissions have already done irrefutable harm to Major League Baseball, this has easily been the most shocking and most damaging news the sport has seen since the Pete Rose gambling saga.
Yankees' President Hank Steinbrenner has issued a temporary gag order for all Yankee employees. The club issued the following statement on the matter.
"We, like the rest of America, are shocked by Derek Jeter's positive test. Today is a dark day for baseball and a dark day for the Yankees organization. Derek is sincerely embarrassed by the positive test, there is no doubt in our mind that he understands the gravity of the situation. The club will not discipline Derek even further. We stand by our captain and will welcome him back with open arms when he is finished serving his suspension."
While the Yankees aren't talking, the rest of baseball is.
At age 34, it appeared as if Jeter's intangibles had been in decline. Last year was the first year in Jeter's career that the Yankees missed the playoffs. His ability to be in the right place in the right time was not enough to overcome sub par seasons from many of the Yankee veterans.
When Jeter returned to spring training this season, suspicions were raised.
"When he showed up to spring training I knew something was up," an anonymous scout told us. "I mean, he was leading this team so damn hard that it was unnatural, he hadn't led a team like that since the late '90s. I knew something had to be up, so when I heard that he had tested positive for the glue, I wasn't surprised."
Baseball insiders are not the only ones talking about Jeter's positive test. In New York, the news has been met with a bevy of emotional reactions.
"When Derek Jeter was doing all the little things for those World Series winners in the late '90s, we all assumed he was doing them naturally. Now, I have to question everything." said Joey Vitale, a 45-year-old deli owner from Massapequa Park, N.Y. "I don't know how to explain this to my son, I mean how can I praise Jeter for being such a professional when he was cheating."
Other Yankee fans refuse to believe that Jeter is guilty.
"This changes nothing, he's still hot!" shouted Lisa Del Piero, a 32-year-old secretary from Montclair, N.J. "He was probably framed by David Ortiz. Derek would never do something like this. It was A-Rod's fault, he should have been watching the door."
One would think that Mets fans would be reveling in the misfortune of their crosstown rivals. However, the Mets fans we interviewed had more measured reactions.
"As much as I hate the Yankees, I'm not celebrating too hard," said Paul Sievers, an insurance underwriter from Rockville Centre, N.Y. "I mean, anybody can tell that none of the current Mets are using the glue, but in my mind most of these guys are guilty until proven innocent. For all we know half of these guys were on the glue. I want to think guys like Cal Ripkin Jr. and Craig Biggio weren't on it, but I can't say for sure. All I know is I want [Jimmy] Rollins to have to piss in a cup now!"
Jeter is not expected to appeal the suspension and he will be eligible to return August 12 versus the Blue Jays. He is also expected to address the media sometime later this week.