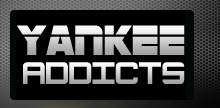 November 2, 2011 · Evan Haffner · Jump to comments
Article Source: Bleacher Report - New York Yankees
This is not a slap at Derek Jeter. He's a great player. Yes, he's had some clutch hits and amazing playoff moments, but don't fool yourself into thinking that he is more valuable to the Yankees franchise than he actually is.
Jeter has always been classy. He'll never publicly bad-mouth a teammate, and he'll never create controversy. In exchange, the press, particularly the New York press, loves him and will always give him a free pass. The myth of Jeter is bigger than the actual body of work.
While Derek Jeter, with his 3000-plus hits and five rings, is destined for Cooperstown, I can make a case that there are at least 10 other Yankees (or more) that have had a bigger impact or were far more influential to their illustrious history than him.
In addition, a lot of Yankee fans under the age of 35 probably don't even remember the lean years of the CBS-owned Yankees or the futility of Danny Cater or Horace Clarke.
There WAS life before No. 2 started playing shortstop in 1996.
Here are some bigger-than-life players who helped shape the franchise…