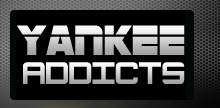 June 3, 2009 · Heartbeat Of The Bronx · Jump to comments
Article Source: Bleacher Report - New York Yankees
Yankees shortstop Derek Jeter has been doing nothing but climbing historic lists since donning the pinstripes for the first time in 1995.
Another milestone was unable to hide from Jeter's ever-expanding legacy, as he became just the fourth Yankee to surpass 1,500 runs scored Tuesday night against the Texas Rangers.
The Yankees are a franchise boasting 26 World Series titles, as well as employing 34 Hall of Fame players at one time during their careers.
Any time a player is the "fourth" to do anything in a Yankees uniform, it's always an extraordinary feat worthy of celebration.
This occasion is no different, as Jeter joins only Babe Ruth, Lou Gehrig, and Mickey Mantle in rarefied Bronx air.
In true Jeter fashion, he would not score his 1,500th run in a moment that did not require it.
He would instead score the go-ahead run in the most emotional of moments, supplying New York with a lead it would never relinquish.
Aided by a clean, hard slide by an angered Mark Teixeira at second base, Jeter was able to cross home plate and into the history books for what seems like the 100th time.
To save time and effort, baseball historians have been provided with a "Derek Jeter" rubber stamp—making it easier to add his name to any recently achieved milestone list.
Though clearly benefiting from some of the most potent lineups in team history, Jeter was able to accomplish the feat in just 2,035 games played.
Excluding the 2003 season, in which Jeter dislocated his shoulder and was forced to miss 43 games, he scored more than 110 runs in nine straight seasons.
This streak included four seasons of 120 or more runs scored, something the great Rickey Henderson could only do two times in 25 Hall of Fame seasons.
Henderson is often considered the greatest baserunner of all time, which helps to underscore Jeter's impressive run-scoring abilities as a Yankee.
Other milestones such as 3,000 career hits are simply inevitable for Jeter, and he will become the first Yankee to ever reach the magic number.
Jeter will soon be No. 1 on the Yankees' all-time hits list, passing Lou Gehrig, who sits at 2,721 hits.
He will be a surefire first-ballot Hall of Fame inductee, and he will deserve every vote he receives. He is a class act and a role model for children during a dark era in Major League Baseball.
Congratulations, Jeter. We will all look forward to being there for your next milestone's celebration.
Also seen at: Heartbeat of the Bronx