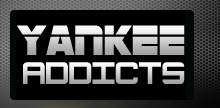 November 26, 2010 · Bob Warja · Jump to comments
Article Source: Bleacher Report - New York Yankees
Saying he was "extremely insulted," New York Yankees captain Derek Jeter turned down a 10-year, $200 million offer from himself on Friday.
Jeter, who awarded himself a Gold Glove earlier this month, told the Associated Press that "the offer just doesn't take into account all I'm worth to myself."
"Look, I'm an icon, man. I'm a freaking brand!," the Yankees shortstop screamed to no one in particular. "I'm very disappointed in me and will be giving myself a stern talking to. I mean, who the hell do I think I am anyway?"
The Yankees star was reportedly offered a miserly three-year, $45 million contract offer from the Yankees. Shortly afterword, GM Brian Cashman told Jeter that if he didn't like it, he should test the market.
But it wasn't long before his agent's phone was ringing off the hook with calls for the Bombers player. "Sure, it was Derek himself that was calling, but it shows we called their bluff—Derek does have other options," said Casey Close.
"And how can a guy named Cash-man expect us to believe he isn't going to offer up whatever the hell we want anyway?"
Despite coming off his worst season statistically, Jeter allegedly compared himself with Babe Ruth in discussing his worth.
"Not true," insisted Jeter. "Everyone knows the Babe couldn't play shortstop."
Pointing to rings on each finger of his left hand, Jeter went on to say, "How do you think the Yankees won all these freaking titles? You really think I had any help? Now I know how David Lee Roth must have felt."
Upon being informed of the Yankees reluctance to give their long-time captain whatever he wants, MLB's commissioner Bud Selig announced that an investigation was underway.
Selig suggested that the league may be forced to take drastic steps to prevent the Yankees from disgracing their legacy and indeed, the good name of baseball itself, by not re-signing Jeter to an eternal contract.
"I think he has earned the right to name his own terms. I mean, what's next—Minka Kelly refusing to pretend to be engaged to Derek?"
Close said that reports that his client is looking for a six-year, $150 million deal are "erroneous and reckless."
While he wouldn't put an exact dollar value on it, Close did imply that if the Yankees really wanted to make Jeter happy, they would help him achieve his goal of becoming "the all-being master of time, space and dimension."
"Actually," added Close, "I wish the damn Yankees would just stay the hell out of the negotiations, to be honest with you."
Read more New York Yankees news on BleacherReport.com