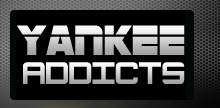 January 3, 2013 · Alan Horvath · Jump to comments
Article Source: Bleacher Report - New York Yankees
Derek Jeter will be playing the 2013 season with dollar signs flashing before his eyes.
Entering his 19th season as the starting shortstop for the New York Yankees, Jeter is owed $17 million in this final year of guaranteed top dollar on his current contract.
Although Jeter has an $8 million player option for 2014, considering his 2012 season, (.313 batting average, 216 hits, 15 home runs) that figure pales as nothing more than an afterthought now. Jeter also holds a $3 million buyout option for 2014.
By exercising his 2014 player option, the then 39-year-old Jeter would be agreeing to a huge pay cut, a move (by the numbers) that simply does not make any sense. For Jeter, the future is now—based heavily on performing at his usual high level during the coming season.
Will a big 2013 season provide more contract leverage for Jeter than he had after his career low 2010 season (.270 batting average)? I believe it is possible, if Jeter duplicates (or improves upon) the numbers he produced last season.
For starters, his career has become more established than it was four years prior. Jeter has surpassed 3,000 hits and is now clearly within the conversation for breaking Pete Rose's all-time hit record (4,256). His 2012 season showed there is plenty of baseball left in Jeter's tank.
Keep in mind, Jeter has not indicated any interest in retirement. When the 2013 season begins, he will be 38. Last season, Omar Vizquel was playing shortstop at the age of 45. With another big season, age becomes less of an issue for Jeter than it was when negotiating his last contract.
For the Yankees, low-balling Jeter (or cutting ties with him) after a big 2013 season would represent a black eye to the organization. After Jeter's sub-par 2010 season, the Yankees had an excuse to play hardball with him. Not so, with a stellar 2013 following up on last year.
In Jeter's favor is his icon status. He is a fan favorite, moves merchandise, and puts fans in the seats. Not only is Jeter a Yankees' icon, he transcends across all of MLB as well.
With a solid 2013, look for Jeter to command another contract similar to his last, which equates to an increase over what is currently sitting on the table for him in 2014.
Read more New York Yankees news on BleacherReport.com