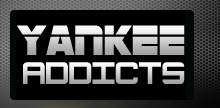 May 29, 2012 · Ed Dzitko · Jump to comments
Article Source: Bleacher Report - New York Yankees
There's no doubt about it—New York Yankees Derek Jeter and Alex Rodriguez are great players pursuing baseball history. Both will end up in the Baseball Hall of Fame.
But they are both also running from Father Time, hoping to be playing long enough to do what no other players have done before. Will their bodies and playing days last until they are both No. 1s?
Following games on Memorial Day, Jeter needs 1,101 hits to pass Pete Rose as the all-time hits leader in MLB history, while Rodriguez needs 127 home runs to pass Barry Bonds as king of the home-run hitters.
What are the chances of those two things happening? Who has the better chance? Let's look at the numbers.
Jeter is collecting hits this season a lot faster than Rodriguez is collecting home runs, but after this year, the Yankees shortstop has to play at least six more to reach 4,257. There are already those wondering how much he has left, despite the fact that he's rebounded tremendously after injuries and a horrible first half in 2011.
When you look at Jeter's numbers, you'll notice that he's averaged 175 hits a year since his career began in 1995, a year in which he appeared in just 15 games as a late-season call up. Since 2008, he has averaged 183 hits per year.
But here's the rub. In 2010 and 2011, Jeter averaged just 170.5 hits. That's less than his career average, but does that matter? He's on pace for 200 hits this year, which would make his latest three-year average 180.
If Jeter gets to 200 this year, smacks another 175 in 2013, the last year of his contract, and bangs out 170 in 2014, after choosing to stay with his player option, he'll be 624 hits away. Would that warrant another four-year deal from the Yankees?
Obviously, that's the question. But the Yankees, about a handful of years ago, re-worked Rodriguez's contract. One of the reasons they kept A-Rod in the fold through 2017 was because he had a chance to become the all-time home-run leader. Would they not do the same for Jeter if he's in striking distance, even if he is 40 years old?
If the revenue projections generated by a home-run chase would offset contract dollars, wouldn't the projections from the chase of two records do so that much more? What about just the revenue as Jeter chases 4,000 and Rodriguez 700?
A-Rod's been a power hitter, but his numbers have dropped dramatically since the end of the steroids era. Over his career, he's averaged one homer every 3.8 games. Since 2008, that number has dropped to one every 4.4.
Other than his first two years as a late-season call-up, Rodriguez in 2011 played in just 99 games while going yard just 16 times, both career lows. In less than half as many games this year, he's at almost half the number of homers, and 636 looks a lot closer to 763 than 3,156 looks to 4,257.
A-Rod, if he gets to 20 homers this season, would have to average 23 over five years to break the record under his current contract. If he averaged 19, he would need another year.
Right now, it seems both players have an outside chance to collect enough numbers to pass two of the top players in baseball history. Because he's under contract already, maybe Rodriguez's chances are a little better.
Come the 2015 season, if A-Rod is at 700-plus and Jeter has a new contract, then conversations like this will be that much more fun.
Read more New York Yankees news on BleacherReport.com