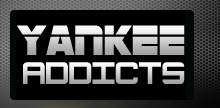 April 2, 2010 · Renato Rodrigues · Jump to comments
Article Source: Bleacher Report - New York Yankees
Last November, Yankee fans and players were celebrating at the Canyon of Heroes parade in Manhattan as they won their 27th World Series title (the most by any franchise) in their remarkable history.
As soon as all the celebrating was over, it was time once again to get the team ready to defend its championship.
Yankees GM Brian Cashman had to reshape the roster a bit, (however, not as much as last year) due to the free agent signings of OF Johnny Damon (Detroit) and DH Hideki Matsui (LA Angels).
They decided to bring back SP Javier Vazquez for protection to the big three on top of the rotation (CC Sabathia, AJ Burnett, and Andy Pettitte.)
In last year's playoffs, they were fortunate enough that the big three held up through out. If they do go to the playoffs again this year, they won't put as much stress on them to perform due to having Vazquez as the fourth starter available.
Javy had a career year last year with the Braves, going 15-10 with a 2.87 ERA.
The Yankees see the potential that he has, and I believe that he is the perfect fourth starter for them.
Here are the other roster moves:
Arrivals
OF Curtis Granderson (in trade with Detroit)
DH/1B Nick Johnson (one year signing)
OF Randy Winn (one year signing)
MRP Boone Logan (in trade with Atlanta)
SP Javier Vazquez (in trade with Atlanta)
LRP/MRP Chan Ho Park (one year signing)
Departures
OF Johnny Damon (two year signing with Detroit)
MRP Phil Coke (in trade with Detroit)
DH Hideki Matsui (one year signing with Los Angeles Angels)
C Jose Molina (one year deal with Toronto)
OF Melky Cabrera (in trade with Atlanta)
As you can tell by this list, the Yankees wanted to do everything they could to produce a championship again this year.
This spring training has been less controversial than last year (due to the A-rod steroid investigation,) but numerous roles were being produced by open competition in Spring training.
The key one was the fifth starter competition between Phil Hughes and Joba Chamberlain.
A couple of days ago, the team announced that Hughes was going to be the starter, and to me, that makes sense because Hughes has the better makeup than Joba as a starter.
Before Hughes got that nasty injury in '07, he was a main starter for the Yankees and he showed then, that he has the potential to be a very good starter.
I saw Joba last year and he just looks more dominant as a reliever than a starter, so I think management made the right choice in putting Hughes as the fifth starter and Joba as the primary set-up man to Mariano Rivera.
Another role was the utility man off the bench, which involved Ramiro Pena and Kevin Russo. The team gave that role to Ramiro Pena, mainly due to his experience with the big club last year.
Finally, the team has to decide whether or not they will either carry two lefties in the pen or carry an extra bench player.
Even though this hasn't been decided yet, to me it seems likely (based on last year's experience) that the team will carry the extra lefty.
So here's my projected opening day roster:
Rotation
SP CC Sabathia
SP AJ Burnett
SP Andy Pettitte
SP Javier Vazquez
SP Phil Hughes
LRP/MRP Alfredo Aceves
LRP Sergio Mitre
LRP/MRP Chan Ho Park
MRP Damaso Marte (primary lefty specialist)
MRP Boone Logan (secondary lefty)
MRP David Robertson
SU Joba Chamberlain
CL Mariano Rivera
Projected Lineup
SS Derek Jeter
DH Nick Johnson
1B Mark Teixeira
3B Alex Rodriguez
2B Robinson Cano
C Jorge Posada
CF Curtis Granderson
RF Nick Swisher
LF Brett Gardner
Bench
UTIL Ramiro Pena
OF Randy Winn
C Francisco Cervelli/Mike Rivera (due to Cervelli's hamstring injury he received in Spring training two days ago, he might not be able to start the season and might be on the DL as well).
I believe that the Yankees will not bring Marcus Thames on the roster early on, but maybe towards the middle of the season he'll get a call-up from the Scranton Yankees.
I think that they love the teo lefty system and will stick with that for now.
Looking at the roster, it is capable of winning another world title and it wouldn't be surprising if they do.
They have one of the best offenses in baseball, more defense than they had last year with Granderson and Gardner in the OF, and one of the best rotations as well.
Let's see what happens this year with the team as they go on their quest towards No. 28.
They will be tested early on, as they start off at Fenway for their first three games of the season (Easter Sunday at 8 p.m. is the opener.) But Yankee fans should have faith in the team this year and hopefully by the end of it, they will be once again at the Canyon Of Heroes, celebrating their 28th title.
Read more New York Yankees news on BleacherReport.com