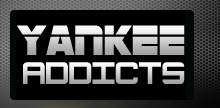 October 13, 2011 · Pat Dean · Jump to comments
Article Source: Bleacher Report - New York Yankees
David Ortiz has grown exhausted with the drama of the Boston Red Sox and may have plans to take his bat to New York. Big Papi made a stunning revelation during an interview with ESPN's Colleen Dominguez that the state of Red Sox Nation could have him contemplating putting on the pinstripes of the Yankees.
"That's something I gotta think about," said Ortiz during the interview. "I've been here on the Red Sox a long time, and I've seen how everything goes down between these two ballclubs."
While the Yankees' priority during the offseason will be on enhancing their starting pitching—and thus have their sights set on Texas Rangers pitcher C.J. Wilson—an acquisition of Big Papi might pay dividends.
The Bronx Bombers could have used Ortiz's slugging capabilities during the ALDS series against the Detroit Tigers, in which they were eliminated in five games.
In that series, the Yankees power duo of Alex Rodriguez and Mark Teixeira combined to go 5-for-36 and had no home runs. The display of cold hitting by the pair provided a lack of protection for second baseman Robinson Cano, who was moved up to the No. 3 spot shortly before the postseason started.
The presence of Big Papi in the Yankees lineup could have served as a solution to the disappointing performances by A-Rod and Tex. Ortiz could have been inserted in place of Rodriguez's or Teixeira's spot in the order and, just maybe, the Yankees could have capitalized on the two occasions they had the bases loaded in the deciding Game 5 of the ALDS.
In seven postseason appearances, Ortiz has batted .283 with 12 homers and 47 RBI. Big Papi has six more RBI than Rodriguez and only one less homer than him despite A-Rod having three more appearances in October than him.
Ortiz would likely have performed well enough to propel the Yankees' season further in October and possibly even into November. Unfortunately for Yankees fans, that situation did not occur. Come next postseason, Ortiz and the Yankees may have what each other need.
As Big Papi said, "Who doesn't want to be involved in a great situation where everything goes the right way?"
Read more New York Yankees news on BleacherReport.com