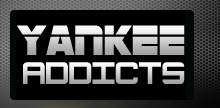 October 13, 2011 · Alison Myers · Jump to comments
Article Source: Bleacher Report - New York Yankees
As if Boston Red Sox fans didn't have enough to stress about after their team had an epic collapse in September to miss the postseason, they were delivered another crushing blow on Wednesday morning.
David Ortiz, the Red Sox's designated hitter, told ESPN that he would consider going to the New York Yankees if the Yankees offered him the right opportunity. He hasn't made any decisions yet, so Red Sox fans don't have to panic immediately, but they shouldn't be totally surprised by a possible jump, either.
As Ortiz explained to Colleen Dominiguez of ESPN about whether or not he would cross enemy lines, "That's something I gotta think about. I've been here on the Red Sox for a long time, and I've seen how everything goes down between these two ballclubs."
He went on to praise the Yankees organization, saying, "It's great from what I hear. It's a good situation to be involved in. Who doesn't want to be involved in a great situation where everything goes the right way?"
Sure, Big Papi is getting older and has struggled with injuries and health issues in recent years. But as crazy as it sounds, him joining the Yankees could actually work.
Here are five reasons why.