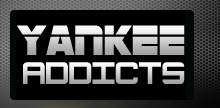 October 3, 2010 · Charlie O'Connor · Jump to comments
Article Source: Bleacher Report - New York Yankees
When the New York Yankees traded for Curtis Granderson in the offseason, expectations surrounding the 29-year-old outfielder were high.
Fantasy owners anticipated a monster season in the home run haven of Yankee Stadium, while team officials believed his disappointing 2009 was a mirage and thought they were acquiring one of the best young center fielders in the game.
At the end of August, it appeared that Granderson was one of the biggest busts of the 2010 season.
However, Granderson awoke in September. After working with Kevin Long to adjust his swing in mid-August, he has upped his game just in time for the postseason.
The Improvement
On September 1st, Curtis Granderson had a slugging percentage of .434 and only 15 home runs. The prospect of platooning Granderson in the postseason had turned into a legitimate possibility.
Then, after a two-HR performance on September 2nd versus the Oakland Athletics, Granderson finally began to showcase the talent that made him a desired trade target in the offseason.
His numbers in September have been fantastic. In total, Granderson hit nine home runs, piled up 23 RBI, and hit for a .278 average.
His on-base percentage, slugging percentage, and OPS went through the roof as well. His .369/.622/.991 line was a season high and was his best month since August of 2008.
Granderson's power has finally returned, likely aided by the swing adjustment. September was the first month of the 2010 season in which his HR/FB percentage surpassed 20 percent. Granderson's power has been a key element of his game, and he is yet again knocking a sizable portion of his fly balls over the fence.
A Disastrous Season or Repeat of 2009?
For all the talk of Granderson having a disappointing season, his final 2010 numbers are nearly identical to his statistics in 2009.
Last season, he finished with a AVG/OBP/SLUG line of .249/.327/.453 for a total on-base plus slugging percentage of .780.
This year? He finishes at .247/.324/.468 for an OPS of .792. In other words, despite his terrible start, Granderson is basically the same player that he was last year.
His counting statistics are down, but that is mainly a result of the fact that Granderson missed most of May due to an injury.
Maybe expectations were simply a bit too high for Granderson. But he has posted a very impressive WAR of 4.1, according to FanGraphs, aided by a strong 8.1 UZR rating.
He may have been disappointing to some at the plate, but he has made up for it in the field.
The Postseason and Beyond
With Granderson rounding into form at the perfect time, he will be expected to help the Yankees defend their title in the postseason.
He even batted second in the Yankees' lineup on October 2nd, a move that would have been unthinkable only a few short months ago.
Granderson could be a major contributor in the second season.
He also appears poised to quiet his critics in 2011. His fielding improvements make him a very valuable player, as 2010 was his strongest season according to WAR since 2007.
Without the May injury, Granderson could have easily been a 30 HR outfielder for the Yankees.
If he can carry over some of his September improvements into 2011 while retaining his strong defensive contributions, Granderson will justify the trade that many in New York have criticized.
Read more New York Yankees news on BleacherReport.com