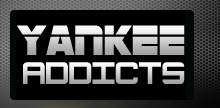 May 5, 2013 · Kenny DeJohn · Jump to comments
Article Source: Bleacher Report - New York Yankees
Curtis Granderson's spring training ended just five pitches into his first at-bat because of a broken right forearm, but the New York Yankees outfielder is finally close to making his return to the team.
Andrew Marchand of ESPNNewYork.com reports that Granderson played in his first extended spring training game last Wednesday (May 1). Marchand goes on to say that general manager Brian Cashman had previously suggested that Granderson would need around 50 at-bats in extended spring games before he would be ready to rejoin the Yankees.
With that goal in a mind (and with considering an off-day here or there while he's recovering), Granderson should be ready within one or two more weeks. That puts him on track to return mid-May at the latest.
Granderson's presence with the team will leave Joe Girardi with a tough decision to make. Vernon Wells has been hitting the cover off the ball, while Brett Gardner and Ichiro Suzuki have been struggling to find consistency at the plate.
Gardner offers great defense in center field, so it will be tough to take him out of the lineup. Granderson will be replacing either Wells or Suzuki, and the decision might have to be based on more than just numbers.
Sure, Suzuki is starting to hit well. His line of .278/.327/.356 is a result of a recent mini-hot streak, but 21 of his 25 hits were singles and he's totaled just two stolen bases. Because of where he hits in the lineup, he's not given all that many opportunities to drive in runs, or score that many either. This makes him a replaceable option at the bottom of the order.
Wells, on the other hand, is swinging one of the best bats on the team right now. He's hitting .286/.349/.510 with six home runs and 13 RBI. That being said, he's been a No. 4 outfielder each of the past two seasons and has more experience in that role than Ichiro, a career-long starter, does.
Granderson, who has hit 84 home runs over the past two seasons, will be replacing one of the two. Girardi should ride the hot hand and keep Wells in the lineup for now, but also look to get Ichiro as many at-bats as possible.
Such a move would necessitate sending Brennan Boesch down to Triple-A where he can work on bringing up his average and on-base percentage. Boesch has potential for the Yankees down the line, but not with so many other veteran outfielders healthy.
The Yankees have gotten off to a nice start without Granderson and other injured stars such as Derek Jeter, Mark Teixeira and Alex Rodriguez. One would think that slowly adding them back would add even more promise to a relatively overachieving team.
We'll have to assess that when we see the product on the field, though. Granderson should be back in two weeks or less, so Yankee fans won't have to wait all that long to see how it plays out.
Read more New York Yankees news on BleacherReport.com