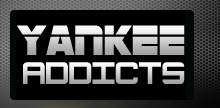 April 8, 2010 · Doug Rush · Jump to comments
Article Source: Bleacher Report - New York Yankees
When the Yankees got Curtis Granderson in the winter, some people weren't totally sold on the center fielder.
"He only hit .249 and he can't hit lefties and he strikes out too much," were some of the things I heard about why trading for Granderson wasn't a good move.
After this past series with the Red Sox, I'm sure most of those critics will be silenced.
One of the most common things heard about new players is having them "earn their pinstripes." The way Granderson played this past series, he's earned them.
In his very first at-bat, he crushed a home run off Josh Beckett, which at the time put the Yankees up 2-0.
In last night's game, with the score knotted 1-1, Granderson stepped up to the plate against Red Sox closer Jonathan Papelbon and didn't waste time looking for pitches.
Papelbon laid in a fastball, and Granderson crushed it over the right field wall to put the Yankees up 2-1. Mark Teixeira's RBI groundout made it 3-1, but the damage was done by Granderson.
Because of Granderson's home run, the Yankees not only ended up winning the game but also won the series against Boston, a major turnaround from the 0-8 start of 2009.
Not only has Granderson been hitting, but he's been a steady fielder out in center so far as well. I know it's three games, but we all know every game against the Red Sox counts.
So far, Granderson has been bad against lefties, at least the Red Sox lefties. But he's also been pretty good against the right-handed pitchers, as he is hitting .333 (4-for-12) in his first few games.
As long as Granderson puts up those kinds of numbers consistently, then the lefty thing won't be a major factor. Plus Kevin Long can work on the issue with Granderson during the season.
A couple of other things to notice from last night's game was a major turnaround by Chan Ho Park. After getting smacked around Sunday night and allowing a game-tying two-run home run to Dustin Pedroia, Park pitched three shutout innings out of the bullpen. Park also got his ERA down from 27.00 to 4.91, a major difference.
If Park can give that type of length and solid pitching for the Yankees, he will in fact be a good option out of the bullpen.
After not so great starts from CC Sabathia and A.J. Burnett, the Yankees got a great one out of Andy Pettitte.
Pettitte went six innings, allowed six hits, one run, walked three, and struck out four, and kept the Yankees in the game at 1-0 while John Lackey was pitching a shutout.
People were concerned about Pettitte not getting enough time during the spring from all the rainouts, but if Wednesday was any indication as to how Pettitte will be in 2010, he looked pretty sharp as the game went on.
One more thing to take notice of: So far, Nick Johnson, Teixeira, and Alex Rodriguez haven't gotten their bats going. Most of you would notice if the Yankees lost this series or if they had gotten swept, but not after they won.
It's really the bottom of the Yankees order that has stepped up in the first series. Robinson Cano and Jorge Posada are both hitting .417, Granderson is hitting .333, Nick Swisher is hitting .364, and even Brett Gardner is hitting .333.
Speaking of Gardner, his walk in the 10th, stolen base, and then run scored was crucial in last night's game. If Gardner can continue to do things like that, he can end up being a major force for the Yankees.
Going up 2-1 against the Red Sox is a great way to set the tone for the season. The Yankees move on to play the Rays starting Friday night.
So far, so good for Yankees Universe.
Read more New York Yankees news on BleacherReport.com