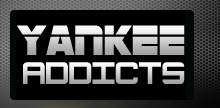 May 5, 2009 · Seth Doria · Jump to comments
Article Source: Bleacher Report - New York Yankees
So I'm not usually one for top 10 lists. They're usually hackneyed attempts at provoking controversy and cheap exposure, not unlike a certain Pennsylvania senator's recent switch of political parties.
But reading the latest Alex Rodriguez allegations in Selena Roberts' new book, A-Rod: The Many Lives of Alex Rodriguez, I got to thinking: "This guy is the single biggest douche bag in all of sports."
Then of course the former copy editor in me spoke up, "Yeah, how do you know? Have you considered every other athlete and rated them on a sliding scale of douchiness in order to provide a scientific back-up of your allegation? You haven't, have you? Jesus Christ, man! Have I taught you nothing?"
(I have these conversations with myself all the time. It's ok.)
Of course I hadn't done any research into the matter. Nor do I plan to. Douchiness is like love – you just know it when you see it.
With that back-drop, I present a thoroughly unscientific, barely-researched top 10 biggest douche bags in sports. The only parameters are that a guy has to be active in his sport and American (the latter because I'm not sure if the construct of douchebaggery transcends borders; I don't want to unfairly label anybody.)
Also, I can go ahead and give the ending away right off the bat: A-Rod wins.