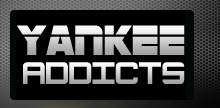 April 20, 2009 · Todd Kaufmann · Jump to comments
Article Source: Bleacher Report - New York Yankees
I know this isn't a Padres story, but hear me out anyway. Could the Yankees be ready to release struggling right-hander Chien-Ming Wang?
Do they want to keep a guy who's 0-3 with a 32.50 ERA and no you didn't read that wrong? In three combined starts, Wang has given up twenty-three runs on twenty-three hits in just six innings pitched.
Don't be surprised if they do release him or try to trade him since Wang doesn't have any options left for the Yankees to send him down to Triple-A. With that being the case, do you think the San Diego Padres might have some interest in the right-hander? How many pitchers have resurrected their careers or pitched better than they ever have when they pitch in a place like Petco Park?
I think if the Yankees release him, they're on the hook for most of his salary so the Padres may be able to pick him up for cheap, especially seeing how much he's struggled. You bring him in to take a look at him, have pitching coach Darren Balsley work with him a little to see if it's his mechanics that are off and if there's something he can adjust, Wang may be a solid number three starter for San Diego.
If he can get back what he had in 2007 when he finished 19-7 with a 3.70 ERA in thirty starts for the Yankees, he could make for a lethal threesome with Jake Peavy and Chris Young. The Padres can move Kevin Correia back to the fourth spot and spot start Shawn Hill with Josh Geer and the Padres' rotation gets that much better.
I know this is just me throwing out theories, but I think Wang is someone Kevin Towers would definitely be interested in, maybe even through a trade. The Yankees can't ask for the moon for a guy that has an ERA over thirty.
Stay tuned…