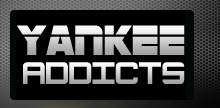 April 6, 2010 · Doug Rush · Jump to comments
Article Source: Bleacher Report - New York Yankees
With the 2010 season just getting under way for the Yankees, there are already rumblings that the team is trying to add on more players.
On Sunday, FOX Sports' Ken Rosenthal reported that the Yankees were possibly looking to add outfield help to what they already have.
Rosenthal reports this because of the Yankees' questionable depth in 2010. Curtis Granderson is a lock in center field and Nick Swisher is a lock in right field. But, if by any chance if they get injured, that hurts their depth and their batting order.
Brett Gardner is the current left fielder, and he did a nice job Sunday night against the Red Sox. But if Gardner struggles to get hits and get on base, it could also cause problems in the lineup, especially since the Yankees are expecting Gardner to produce.
The Yankees also have Randy Winn and Marcus Thames on their bench, but both struggled during spring training and both are now seen as part time players. It's not definite that the Yankees would want to go with either Winn or Thames as a starter.
Some have even said that if Winn and Thames both struggle in 2010, they are strong candidates to be designated for assignment if the Yankees need to make roster changes.
There is a player currently without a job after being designated for assignment this past week. He's an interesting one, since he was probably the Oakland A's best player a season ago.
Surprisingly enough, Jack Cust has been available since Saturday because Oakland wanted to go with Eric Chavez as their designated hitter, a move that has angered Cust. He is now weighing his options about going down to the minor leagues.
If Cust refuses to go to the minors, he can be traded in the next couple days or just get an outright release.
If the Yankees are seriously looking for help, I wonder if they should take a look at Cust.
There are the negatives about Cust. His strikeout totals are really bad. Cust has lead the league in strikeouts for the last three seasons. His average is also rather low, in the .250 and below range.
But, there are upsides to Cust. He hits for power, hitting anywhere from 25-33 home runs in the last three seasons. He also draws a ton of walks, which is a key trait of the Yankees' batting order—taking pitches and wearing down pitchers. Cust also has a good on base percentage because of his ability to draw walks.
It's very strange that a team as bad as the A's, with virtually no power on their team other than Cust, would cut its best power hitter for a guy who has been on the disabled list numerous times.
Cust has played in left field and right field, plus has served as a designated hitter. So if the Yankees did have interest, and current DH Nick Johnson were to get hurt (you know you've thought about it—he averages a DL trip once every season), Cust could fit into that spot. Or, Cust could fit in as another pinch hitter off the bench if he doesn't get to play every day.
So if the Yankees are really looking for outfield help, Cust could be a guy they should take some serious interest in. He wouldn't even cost the Yankees that much. He was only making about $2 million with Oakland.
Cust is also no stranger to the area, having grown up in New Jersey and having played high school baseball for Immaculata in Somervile, so playing on the East coast, and especially in New York, probably wouldn't be a big challenge for the 30-year-old.
For all we know, Cust might just accept his minor league assignment so he still makes the $2 million owed to him in 2010, but after reading Cust's interview on how angered he is with the Oakland organization, I wouldn't be surprised to see Cust playing elsewhere by next week.
Personally, I wouldn't mind taking a chance on him. His power and his ability to get on base are hard to pass up. His tendencies for striking out can be worked on with hitting coach Kevin Long. He's relatively young and a cheap option on the market.
This is something to think about for the Yankees. So now, I leave this open for discussion for the B/R community. Would Cust be a good fit for the Yankees, or should they pass on him?
Read more New York Yankees news on BleacherReport.com