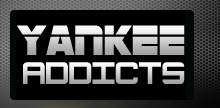 April 4, 2013 · Joe Giglio · Jump to comments
Article Source: Bleacher Report - New York Yankees
Yankees shortstop Derek Jeter originally hoped to be fully recovered for Opening Day in the Bronx.
When a setback occurred during spring training, New York scaled back Jeter's playing time, even pulling him from action against other major leaguers in order to backdate his disabled list stint to March 22.
The thinking at the time was for Jeter to rest a few days, rid the soreness in his surgically repaired ankle and show up to help rescue the Yankees lineup within a few days of Opening Day.
Of course, it's now been a few days since Opening Day and Jeter isn't close to being ready for game action with the Yankees.
Jeter is eligible to come off the DL on April 6. Considering that he's playing long toss and receiving therapy—not hitting, not fielding and certainly not running the bases—it would be premature to expect him in back within a week or two from the most recent timetable set.
As Jon Heyman of CBS Sports pointed out on Thursday, New York is looking towards May 1 as the date it could see reinforcements to its depleted lineup.
Mark Teixeira's rehab is progressing as he incorporates a new conditioning workout to ward off future injuries.
Curtis Granderson, recovering from a fractured forearm, shouldn't be far behind.
As for Jeter, May 1 is the "hopeful" date according to Heyman's sources within the Yankees.
After Wednesday's game against Boston, manager Joe Girardi spoke about Jeter's progress and expectations for when he returns.
"Our expectation is that he is going to be an everyday player again," Girardi said (via Heyman). "When is that, we're concerned about, and how long it takes for him to get through what he needs to get through to be that everyday player."
The setback, length of idle time, and further delaying of true baseball activities leads to the theory of Jeter's injury being worse than originally thought.
Of course, the original injury—a broken ankle suffered in the American League Championship series last October—has been repaired.
The setback, called "soreness" at the time, is becoming a major concern.
Jeter admitted to playing through pain (via Newsday) last season, something that he believes led to the ultimate break in his ankle.
"It was something that I hurt it, I continued to play on it, probably when I shouldn't have," he said. "But I continued to play on it and then eventually it broke."
From the way the Yankee captain spoke throughout the offseason, it was a major goal (via Newsday) to be on the field for Opening Day.
Did pushing for that goal—a commendable, yet ultimately unimportant mark on any team's calendar—cause a new injury?
Unless Jeter is truly out for an extended period of the season, it's likely that fans will never know.
The most likely scenario is what the media is being told: soreness around the surgically repaired area.
If there's a new injury, an aggregation of the original ailment or complications from the healing process, Jeter's timetable may be impossible to predict.
Baseball history isn't filtered with records of 39-year-old shortstops having durable, productive seasons.
There's a reason for that. As great as Jeter was last year when leading the American League in hits, the odds are stacked against his production being close to as great when he returns.
While it's foolish to doubt one of the greatest players of all time, it's also time to wonder if and when he'll be healthy enough to continue being the player he was in 2012.
Three years ago, while Jeter was in the midst of a .270/.340/370 slash line, it wouldn't have harmed the Yankees lineup to miss him for three or four weeks.
In 2013, when the Opening Day lineup included Eduardo Nunez batting second, he's needed back as soon as possible.
Where will the Yankees be in the standings when Jeter returns?
Comment below, follow me on Twitter @JoeGiglioSports or "Like" my Facebook page to talk all things baseball.
Read more New York Yankees news on BleacherReport.com