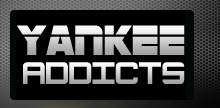 December 18, 2012 · Andrew Gould · Jump to comments
Article Source: Bleacher Report - New York Yankees
The New York Yankees are three seasons removed from capturing their 27th championship, but that small amount feels decades away for a franchise losing its grip as a MLB powerhouse.
It's easy for Yankees fans to forget, but 22 teams actually stop playing baseball after September/early October. A perennial playoff squad is now embracing the reality of missing the postseason for just the second time in the past 19 years.
As the Bronx Bombers tighten their belts in order to avoid paying another luxury tax penalty in 2014, the Toronto Blue Jays are going on a shopping spree, acquiring Melky Cabrera, Jose Reyes, Mark Buehrle, Josh Johnson and R.A. Dickey.
Before turning sights to a brighter future, remember that the Tampa Bay Rays just added baseball's best hitting prospect and a premier young arm to join their wide array of young talent.
Despite averaging 95.7 wins over their last three seasons, the Yankees have failed to convert their regular season success into another ring. Constantly performing among the league's elite still has not been enough to match their 2009 campaign, where they went 103-59 and topped the Philadelphia Phillies in the World Series.
The Yankees will probably make some moves before Opening Day, but now that many of the major names have found a home, here is how their current roster stacks up to the 2009 championship team.
Note: Stats, unless otherwise noted, courtesy of Baseball Reference.