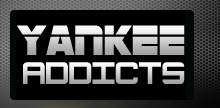 April 30, 2009 · Bob Warja · Jump to comments
Article Source: Bleacher Report - New York Yankees
Excerpts from Selina Roberts' upcoming book on Alex Rodriguez allege he used steroids with the Yankees and may have used them as far back as high school.
Look, nothing should surprise us about the use of performance-enhancing drugs by now. We've heard the lies, we've heard the evidence, we know that steroid use was rampant in major league baseball as recently as 2004.
Heck, it's likely still going on, although it appears there are far less using the stuff these days.
But as we continue to see minor leaguers get caught with banned substances, it serves as a reminder of the lure that PEDS has to young ballplayers.
We had heard the rumors about steroid usage by high school football players. But to think that high school students are using it in baseball is disturbing.
It could be our sons (and yes, even daughters) using it right now. If that doesn't concern you as a parent, you're not breathing.
The book, to be released on May 12, was authored by Sports Illustrated writer Selena Roberts' and is titled "A-Rod". Details were released Wednesday by the New York Daily News.
Say what you will about what a rat Jose Canseco may be, but much of what he has alleged has turned out to be truthful.
"Was he on steroids in high school?" Canseco said in the book, the Daily News reported. "I think probably so. I worked out with him when he was 18. He could lift almost as much as I could."
According to ESPN.com, "Rodriguez put on 25 pounds of muscle between his sophomore and junior years. Former high school teammates told Roberts that A-Rod was using steroids back then and his coach knew it — an allegation the coach, Rich Hoffman, denied."
The Daily News goes to report that the book details other allegations about A-Rod, including:
He let opponents know what pitch was coming in lopsided games, with the expectation that they would reciprocate for him
He had a "poker habit"
He was "hated at Hooters, where he tipped the minimum 15 percent."
I know, we're all sick and tired of hearing about A-Rod, so why write more about it? Well, I guess it's sports-related news, for one thing, and try as we might, A-Rod continues to dominate the news as he comes back from his hip injury.
Plus, this stuff sounds interesting.
And scary, come to think of it. High school students on steroids? Please, kids, just say no.