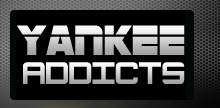 June 12, 2009 · Nick Xouris · Jump to comments
Article Source: Bleacher Report - New York Yankees
Last night's 4-3 loss to the Boston Red Sox rests squarely on Joe Girardi's shoulders. Two words caused him to lose the game, neither of which are "Joba" or "Chamberlain."
The two words are conventional thinking.
Girardi managed last night's game the same way that 99.9 percent of managers and wanna-be managers would have: Push C.C. Sabathia to the limit, hoping to get 23 or 24 outs from him. When Sabathia tires, have Mariano Rivera ready to get the final three or four outs of the game.
His train of thought ironically required very little thought, resulting in a world-class failure for a man paid a lot of money to win baseball games.
When Girardi manages "by a formula," he becomes oblivious to any volatile external factors that influence a game's outcome. Baseball is the only sport where game context is ignored from decision making.
Teams constantly look to create a managerial blueprint to make late inning managing easier for the men in charge. "He's our 8th inning guy," is the praise often placed upon a J.J. Putz or a Ryan Madson. (As a reliever, Chamberlain would likely hold the same status in Girardi's pen.)
The sole purpose of this is to shift the blame of failure from the manager to the players. If an 8th inning guy blows a game, the manager is exempt from blame because he "followed the script."
But could you ever imagine Tom Coughlin deciding before a game, "No matter what, with 5 minutes left in the 4th quarter, Eli Manning is throwing the ball down field to Steve Smith?" What if it's 2nd and 1? What if the opponent has a good pass defense? Shouldn't things like this matter?
To ignore the context of the game, in any sport, is irresponsible. Smart teams avoid managing themselves into a box.
Ask any Red Sox fan who their "8th inning guy" is and you might get five or six different answers. Is it Manny Delcarmen? Takashi Saito? Hideki Okajima? Justin Masterson? Ramon Ramirez? Daniel Bard? Each of these pitchers has gotten big outs in the big moment this season.
And that's the intrinsic beauty of the Red Sox bullpen: there is no 8th inning guy. Theo Esptein wants Terry Francona to make decisions best suited for each individual game during each game, not before them.
You need a strikeout? Go to Delcarmen. You need a ground ball? Bring in Masterson. A couple of tough lefties coming up? Hello Okajima. Managing by a predetermined formula, irrespective of a game's context would significantly reduce Francona's effectiveness as a manager.
Which brings us to last night's Red Sox-Yankees game.
After allowing the single to Nick Green, there is one pitcher in the Yankee bullpen who made sense to face Pedroia-Drew-Youkilis-Bay.
With the game on the line, it's ridiculous to allow the Alfredo Aceves's of the world to lose them for you. Your best pitchers should be called upon to get your biggest outs, which is why Mariano Rivera should have been summoned to get Sabathia out of the jam.
Rivera is the best pitcher in the Yankee bullpen. Forget about the 9th inning. The game was on the line in the 8th with the heart of the Red Sox order coming up. Survive the Red Sox threat in the 8th inning with your best pitcher on the mound and worry about the 9th inning later. If Rivera loses the game, so be it. At least, the game was lost with your best pitcher on the mound.
With six outs remaining, wouldn't the Yankees have been better suited to have Rivera pitching to Pedroia-Drew-Youkilis-Bay instead of a tired Sabathia, Aceves, and Coke?
Most importantly, Rivera does not have to get all six outs. If Aceves and Coke are needed to get two or three outs, they would be much better suited facing David Ortiz, Jason Varitek, and Rocco Baldelli in the 9th than the heart of the order with men on base and Fenway Park rocking in the 8th.
But it's commonplace for baseball managers to stick to the script, a sport stuck badly in a "This is how things are done" frame of mind. Managers manage for the save (statistic) rather than the win. At least Rivera will be well-rested for tonight's 9th inning appearance with a three-run lead against Omir Santos, Fernando Tatis, and Jeremy Reed.
Yesterday wasn't an example of why Joba should be in the bullpen; it was an example of why managers should start thinking outside the box.