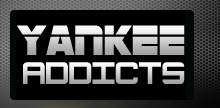 April 29, 2009 · Heartbeat Of The Bronx · Jump to comments
Article Source: Bleacher Report - New York Yankees
The Yankees were unsure of where their season stood, and even more unsure of what would become of their besieged pitching staff.
Chien-Ming Wang had recently suffered both a mental and physical breakdown in New York, and 19 automatic wins instead quickly manifested itself as a gaping hole in the rotation.
A mysterious "injury" sent Wang away to the Yankees' secret Tampa laboratory, trying to fix what so suddenly and unexpectedly became broken. A culmination of velocity reduction, arm slot inconsistencies, and a non-sinking sinker forced New York's hand.
Who could emerge from a barren Minor League landscape to plug the leak of a sinking Yankee ship? A familiar face stepped out from the shadows, ready to rewrite his chapter in the Yankees' history books.
The "messiah" of the starting staff would have to be Phil Hughes, once believed to be the next great ace of Major League Baseball. Injuries and underperformance shattered his dreams in 2008 and left fans and scouts wondering what had become of the "can't-miss prospect."
Still baby-faced and just 22 years of age, Hughes was not ready to let fans forget his polished pedigree. He entered his season debut with a 3-0 record and 1.86 ERA in AAA, having made some key adjustments to his pitching repertoire.
The fine-tuning was clearly evident in Tuesday's debut against the Detroit Tigers, as Hughes made a potent and powerful lineup appear more prepared for the Eastern League at AA.
Hughes' final line included six innings, six strikeouts, two walks, and just two hits allowed. More importantly for the Yankees, he was able to obtain "one win." It was a win they desperately needed and totaled more than Hughes had collected in all of 2008.
A new and precise cutter has been added to Hughes' arsenal, and it helped to minimize one of his biggest weaknesses as a starter in the majors. He was now able to get inside consistently on left-handers, turning doubles and home runs of years past into ground balls to second base.
Hughes used one of these ground balls to escape his only jam of the day, preserving a 0-0 pitcher's duel at the time.
The weight of the world—or in this case, "Yankees Universe"—was on Hughes' invaluable right shoulder. He did more than simply deliver; he proved that he belonged in pinstripes for the weeks (and possibly months) to come.
With a sharp curveball and 92-93 MPH fastball, Hughes was a serviceable starter. When adding a pinpoint cutter and developing changeup, there is no telling how high his ceiling can rise.
The Yankees needed a stopper, but more importantly, they needed a sense of hope and serenity. Hughes gave them both and appeared for the first time to be exactly as advertised.
We had all heard the hype ad nauseam. On Tuesday, however, we finally saw it with our own eyes.