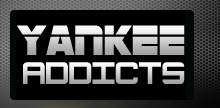 April 23, 2009 · Colin Linneweber · Jump to comments
Article Source: Bleacher Report - New York Yankees
New York Yankees Manager Joe Girardi announced Wednesday that Chien-Ming Wang (0-3, 34.50 ERA) will have his scheduled start Friday against the Red Sox in Boston skipped because of his anemic start to the 2009 season.
"I understand," Wang, 29, simply stated when informed by Girardi that Joba Chamberlain (0-0, 5.06 ERA) would replace him in the opener at Fenway Park.
Wang, who is 54-21 with a 3.87 ERA since debuting in the Bronx in 2005, has struggled mightily with his command and his famous sinker hasn't sunk to date and it is imperative for the Yankees (9-6) that he recaptures the form that once made him their ace.
"It is extremely important," Girardi said about mending Wang's mechanics. "He's a guy we've counted on to win his 18-20 games. We need to get back to that."
The Taiwanese idol, who last spring became the fastest Major Leaguer to notch 50 wins as a starter since Dwight Gooden in 1986, suffered a torn Lisfranc ligament of the right foot and a partial tear of the peroneus longus of the right foot last June while rounding the bases against the Astros in Houston and it is evident that he has not entirely recovered from the severe injury.
"It's hard to tell anything with Chien-Ming Wang, because he's so even-keeled," Girardi noted of the powerful finesse pitcher that won 19 games in both the 2006 and 2007 seasons.
Wang is flatly a tremendous hurler and, despite his horrid stretch out of the gate, there is little doubt that he will ultimately have a successful campaign on the hill this year.
Unfortunately, Boston's answer to Judas, average Yankees left-fielder Johnny Damon, doesn't seem willing to have patience with Wang while he refines his craft.
"We have six losses on the year right now and he's got three of them," said, Damon, 35, a reformed reefer addict that speaks and looks like a retarded version of Alvin from the Chipmunks. "And in all three of those games, we've been blown out and we've had to go to our bullpen. So maybe our bullpen's not sharp the following days. So I don't know what more to say, but hopefully he can figure it out because it'd be tough to keep on going like this."
Chien Ming Wang has unquestionably been one of the Yankees most productive players over the past five seasons and it is pathetically comedic that a glorified utility man like Damon would have the audacity to voice his unimportant thoughts regarding Wang to the public.
Wang is rightfully anticipated to return to the Yankees starting rotation next week versus the Tigers in Detroit.
Chien-Ming Wang's arm has always been a vital asset to the Bombers recent successes and he will rebound from his brief tribulations on the mound.
Johnny Damon's .286 batting average in the Bronx has been mediocre and his arm has always been a grave liability in the outfield.
Wang will inevitably fix his arm.
Hopefully, Damon can fix his irrelevant and nonsensical mouth.