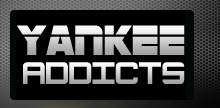 April 18, 2009 · Rob Abruzzese · Jump to comments
Article Source: Bleacher Report - New York Yankees
Yankees pitcher Chien-Ming Wang, before his foot injury last season, was one of the best pitchers in the MLB, recording two straight seasons with 20 wins. Now, after his first three starts he is 0-3 with an ERA of 34.50 as the Yankees took yet another beating with Wang on the hill, losing to the Indians 22-4.
I'm sorry but I have never heard of any Yankee having an ERA of 34 at any point in any season. To me it's an obvious sign that the foot just isn't right. He is not planting it properly and is a mess mechanically. This is causing his sinker to just kind of hang there like a batting practice fastball. Wang needs his sinker to work to set up his other pitches. Without his sinker, well he is just sunk.
In today's beating Wang gave up 8 runs on 8 hits in 1.1 innings. The only thing worse than Wang was the man who came in to relieve him, new call up Anthony Claggett, who gave up 9 runs on 8 hits in 1.2 innings. Actually someone just brought to my attention that Claggetts ERA is now 43.20. There are you happy? the Yankees do have someone worse off than Wang.
Now the question is, what are the Yankees options? Well they are not good. He can't be sent down because he doesn't have any options and has to have five years of service to go to Scranton voluntarily. Pitching Coach Dave Eiland said "he will be fine" and "he actually pitched better today" WHAT! Are you kidding me? He was horrible. The day off on Thursday will allow the Yankees to skip his next start which would be against Boston on Friday.
The Yankees insist he is not injured. I find it hard to believe, I suppose it could all be in his head but hurt or not hurt the Yankees need to do something fast. I would think that Claggett will be back in Scranton tomorrow and the Yankees might consider bringing up Phil Hughes after the Boston series if they aren't able to make the necessary mechanical/mental changes in time for his next start . For now the prudent move would be to bring up another fresh arm for the bull pen ala Brett Tomko to help relieve some of those recently taxed bullpen arms.
Do I think Wang will pull out of his funk? Yes. Do I think it is just mental? No. Regardless of what the Yankees are saying I think he is not fully recovered from his foot injury and should be placed on the DL for 15 days or longer to get him right. It's time for Phil Hughes to step up and show us some of that magic that we all know he is capable of. I also predict by mid-season Wang will be back to his old self and may even finish the season with an ERA under 20.