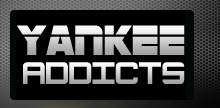 May 3, 2009 · Heartbeat Of The Bronx · Jump to comments
Article Source: Bleacher Report - New York Yankees
Yankees starter Chien-Ming Wang has once again shot himself in the foot.
I mean this figuratively, of course, and am in no way insinuating another Plaxico Burress nightmare.
According to reports by the New York Daily News, Wang's struggles were indeed magnified by a recurring foot injury.
The damage dates back to last season, when Wang was injured rounding third base in an Interleague game.
Organizational pitching coach Billy Connors remarked that Wang was unable to push off his back foot, which is where pitchers gather their power from. Wang pitched four innings in an extended spring training game Saturday and is slated to do so two more times before rejoining the Yankees.
Wang's explanation for his disastrous early season is that "stiffness in my right foot threw off my mechanics."
As a result, the Yankees feel that his hip took on the brunt of the stress. He was getting over onto his front foot too quickly, using hip rotation to compensate for an insufficient push off his back leg.
Billy Connors and the Yankees organization seem to have targeted exactly what needs to be repaired to salvage Wang's season. Actually doing so is the next and more difficult step.
Phil Hughes, Wang's current replacement, will pitch today against the Angels. His performances will ultimately determine the urgency of Wang's restoration.
The Yankees have decided to implement a rehab process with a strength-and-conditioning program. It wouldn't hurt to also send him to a few sessions with a first-rate therapist, would it?
Also seen at: http://heartbeatofthebronx.blogspot.com/