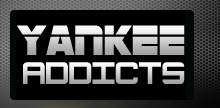 April 29, 2010 · Doug Rush · Jump to comments
Article Source: Bleacher Report - New York Yankees
When you think of recent Yankees teams, generally the first thing that comes to mind is the high-scoring offense.
With guys like Alex Rodriguez, Mark Teixeira, Robinson Cano, and Derek Jeter leading your offense, the Yankees are never out of any games where they are behind.
But when you get right down to what the major strength of the current Yankees really is, you will see that it is the starting pitching.
In 2009, it was three starters who carried the load for the Yankees in CC Sabathia, A.J. Burnett, and Andy Pettitte. Because of injuries to Chien-Ming Wang and inconsistencies by Joba Chamberlain, it was up to those three to grind out the innings and wins, which Sabathia, Burnett, and Pettitte did with a combined 46 wins and just 25 losses.
It was also those three who shouldered the load in the 2009 playoffs, going 8-2 en route to winning the World Series over teams who threw out four starters.
In 2010, the strategy has stayed the same. Yes, the Yankees at times will need their offense to work. But it is their starting pitching that needs to get the job done.
This year, it is Phil Hughes who joins the party and has pitched well in the Yankees rotation. The other Yankees starter, Javier Vazquez, needs to jump on board, because so far he's been bad.
In last night's game against the Orioles, we saw Sabathia take the ball for the Yankees following a tough 5-4 loss where the bullpen gave up the lead for Hughes.
Sabathia responded with a 7.2-inning performance and picked up his third win of the season, going to 3-1. He has already pitched in five games, and two of them have been for complete games (granted, one of them was a rain-shortened one.) Even so, Sabathia is still showing that he is tough and durable against everyone.
If not for the bullpen giving up a 2-1 lead, Hughes could have gone to 3-0 but instead is still at 2-0. His performance last week against Oakland may have been one of his best, where he kept Oakland hitless until the eighth inning and struck out 10 batters.
Against Baltimore, Hughes did walk four and lasted only 5.2 innings, but he did escape a bases-loaded jam with a double play and had only allowed one run in the game when he left. If that were in 2007 or 2008, Hughes may have allowed the three runs, maybe more, to score in that inning, but because he has a whole new demeanor to his game, he was able to escape trouble.
Tonight's starter, Burnett, has gotten off to another solid April. The one thing that people knocked Burnett for in 2009 was that he was too erratic and walked too many guys. Burnett has kept the walks down for the most part with only eight in 25 innings pitched while striking out 16.
In some of his games, Burnett is not striking out as many batters yet is still getting batters out, which explains the 2-0 record and his 3.20 ERA, which is a lot lower than what people expect from him.
Last, but certainly not least, is the longest-tenured veteran of the bunch in Pettitte. Many people have the feeling that this is the 37-year-old's last season in the majors, and if that is true, Pettitte is attempting to finish his career on top and dominating hitters.
After a no-decision against Boston, which again was a strong performance, Pettitte has three consecutive wins with an ERA of 1.29. He has also pitched two games in a row where he went eight solid innings against the Rangers and Angels. Not only has Pettitte kept the runs off the board, he has also struck out 22 batters while only walking nine.
Between Sabathia, Burnett, Pettitte, and Hughes, they are a combined 10-1 in April right now. If Vazquez wasn't struggling, that record would be a lot better, but if you include him, the record is 11-4, which is still pretty good.
If you look at the Red Sox rotation of Josh Beckett, John Lackey, Jon Lester, Tim Wakefield, and Clay Buchholz, they are just 6-6 in April, which would explain their slow start.
Good starting pitching has always been a formula of the Yankees' championship pedigree.
Going back to the 1996-2001 era, the Yankees always had great starters: Pettitte, David Wells, Roger Clemens, Doc Gooden, Jimmy Key, Orlando Hernandez, David Cone, and Mike Mussina.
Sure, they had a starter here and there like Hideki Irabu that was awful, which is what Vazquez is resembling this season. But if the Yankees can get those four main pitchers to continue their trend of strong starting pitching and win games, there may be no team in baseball that can contend or compete with them.
So no matter how great the Yankees offense is over the next couple seasons, they must never forget the key strength to their success, which started back over 14 years ago, and that is great starting pitching.
Everything else will build off the rotation and fall into place. As long as Sabathia, Burnett, Pettitte, and Hughes keep up their dominance, the Yankees are set up for success in 2010.
Read more New York Yankees news on BleacherReport.com