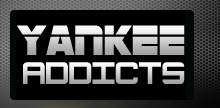 May 20, 2009 · Heartbeat Of The Bronx · Jump to comments
Article Source: Bleacher Report - New York Yankees
If it pitches like an ace, and it wins like an ace, and it's paid like an ace—it must be an ace, right?
For at least the first month of baseball's marathon season, fans and writers alike were not sure if their eyes were deceiving them.
Yankees pitcher CC Sabathia had certainly shown glimpses of brilliance over his first six starts, but the only things that matter in New York are wins and losses.
After a disheartening loss at the hands of the Angels in which he pitched very well before a late-inning collapse, Sabathia sat at just 1-3 with a bloated 4.85 ERA.
Since that point, Sabathia has had a pitching epiphany, once again solving the riddle of powerful American League batting orders.
Sabathia is 3-0 in his last three starts, posting a 1.12 ERA and dominating 0.75 WHIP. He has allowed just 12 H in 24 IP, all while pitching to a 20-to-6 K/BB ratio.
In just three games, Sabathia has transformed his season from 1-3 and a 4.85 ERA to 4-3 with a 3.43 ERA.
His slider has more tilt, his fastball has more consistent velocity, and his changeup rivals that of the great Bugs Bunny.
Sabathia has added a dynamic to the pitching staff far more important than wins—which I understand seems impossible when discussing the New York Yankees.
New York's ace has made certain that the soft underbelly of the bullpen will not be exposed.
For at least one game every five days, Yankees fans can fasten a lock onto the household's liquor cabinet.
Jonathan Albaladejo, Jose Veras, and Phil Coke will be getting the night off, and blood pressures around the tri-state area will begin to stabilize.
Only one important inning has been pitched by a reliever not named Mariano Rivera in his May starts, and New York subsequently lost that game 8-4.
Considering his "unacceptable" inaugural month in pinstripes, it is amazing that Sabathia still boasts a 1.14 WHIP and .221 BAA during the 2009 season.
To put this into perspective, the Cy Young Award winners of 2008—Tim Lincecum and Cliff Lee—produced very similar statistics.
Lee generated a 1.11 WHIP and .253 BAA, while Lincecum sported a 1.17 WHIP and an identical .221 BAA as Sabathia's current status.
Though wins and earned run averages make or break Cy Young winners, it is interesting that the "underperforming" Sabathia compares favorably in two increasingly important pitching stats.
If this is Sabathia's benchmark through nine starts littered with inconsistencies, exactly how high can the bar be raised?
It is unreasonable and rather fantastical to expect another AL Cy Young to be placed on Sabathia's mantle in 2009.
However, perhaps it won't take as long as anticipated for him to adjust to the bright lights of New York City.
Some may believe that CC stands for "counting change," as his salary accounts for 2.3 billion pennies in 2009 alone.
Carsten Charles would prefer his abbreviation to be confused with "cool and collected," as he plans to ride his poise and expanding confidence into the latter part of October.
There may be more dollars in Sabathia's 2009 salary than the entire population of the state of New York, but he may just turn out to be worth every penny.
Also Seen At: Heartbeat of the Bronx