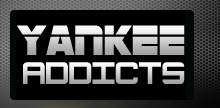 June 21, 2009 · PJ Ross · Jump to comments
Article Source: Bleacher Report - New York Yankees
C.C. Sabathia left after just one and a third innings on a warm Sunday afternoon in Florida. The reason for his departure was tightness in his left biceps.
Sabathia labored through the first. Chris Coghlan doubled to deep right field to leadoff the game, quickly followed by a Wes Helms RBI single. Hanley Ramirez popped out, and then pitching coach Dave Eiland made a strangely early visit to the mound to talk with Sabathia.
Jorge Cantu followed with a towering fly ball to the warning track in left field. Dan Uggla then walked with two outs, and Sabathia finally ended the inning with a punch-out.
In the top of the second, he surrendered a one-out double to Brett Carroll. It was just his 28th pitch of the night.
Joe Girardi then came out with the Yankees trainer to speak with the 28-year old left-hander. Sabathia, wiping the sweat from his brow repeatedly during the talk with Girardi, appeared to be lobbying to stay in the game. It was clear that Girardi was having no part of that as he called on Alfredo Aceves to come on in relief.
Previous to Sunday's start, Sabathia had gone eight consecutive starts with at least seven innings pitched, and has done it ten times this season. It was the longest streak for a Yankee pitcher since David Cone in 1998.
After signing a seven-year, $161 million contract with the Yankees in the off-season, Sabathia has gone 6-4 with a 3.67 ERA. Since the start of the '07 season, Sabathia ranks first in innings pitched (594), second in wins (42), second in strikeouts (529), and fifth in ERA with 3.07.