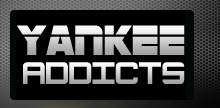 November 22, 2012 · Alexander Smith · Jump to comments
Article Source: Bleacher Report - New York Yankees
Since bursting onto the Major League Baseball scene in 2001 with the Cleveland Indians, C.C. Sabathia has consistently been one of the most explosive and durable pitchers in all of baseball. The 6'7′, 290-pound California native has posted a 191-102 record over the course of his 12-year career to go along with a 3.50 ERA and 2,214 strikeouts.
After signing an enormous eight-year, $182 million contract with the New York Yankees in 2009, Sabathia has lived up to his billing as one of baseball's best arms, providing the Bronx Bombers with consistency and stellar performances atop their rotation.
Yet what makes the Yankees' premier pitcher so good? What aspects of his repertoire distinguish him from the other incredible pitchers taking the mound for MLB teams all over the country?
To start, let's take a look at how Sabathia takes advantage of his size and physical traits in order to create difficulty for opposing batters. At 6'7'', Sabathia is quite the imposing figure on the mound. Aside from intimidation, as Major League hitters are not easily intimidated, Sabathia's height offers him many advantages over your standard pitcher.
First, it allows him to release the ball closer to home plate, which, from the hitter's perspective, makes it seem as if the ball is on top of him quicker than your average fastball. This effect could add up to two to three miles per hour (mph) to Sabathia's fastball in the eyes of the batter.
Second, Sabathia's height allows him to throw on a downward plane towards the hitter. By pitching on a downward plane, it becomes significantly harder for the batter to drive the ball squarely off the barrel of the bat. Consistently missing barrels and forcing weak contact enables Sabathia to navigate through even the toughest of lineups.
Third, Sabathia's size allows him to exert less energy on each pitch than his smaller counterparts. By conserving energy, Sabathia can pitch deep into individual ball games and maintain his health over the course of a grueling, 162-game season. Since joining the Yankees in 2009, Sabathia has thrown 200 or more innings each season and tossed nine complete games.
Next we will look at how Sabathia uses a combination of four pitches to keep hitters constantly off-balance. Even though Sabathia is not a pitcher often linked with having dominant "stuff" or a single untouchable pitch, the way Sabathia combines his entire repertoire allows all of his pitches to become more effective.
Evidence of this is in the way Sabathia pitched when behind in the count in 2012. Against left-handed hitters Sabathia still throws 51 percent sliders when behind in the count and against right-handed hitters Sabathia throws 28 percent changeups when behind in the count, by throwing these off-speed pitches at such high percentages, even when behind in the count, hitters cannot ever simply key on Sabathia's fastball.
Lastly, we will look at each of C.C. Sabathia's pitches individually to see just what makes them tough on opposing batters.
Like almost every pitcher in Major League Baseball, Sabathia's most prominently featured pitch is his fastball, as since 2007, Sabathia has thrown this pitch 47 percent of the time. In 2012, Sabathia's fastball averaged 93.05 mph, well above the league average. While the velocity of Sabathia's fastball forces hitters to respect the pitch, it is other factors that make this Sabathia's most reliable option.
Sabathia primarily uses his fastball as a standard to work his other pitches off of. He attacks the zone with it, especially early in the count where since 2007 he throws it over 50 percent of the time as his first pitch. By commanding his fastball to both sides of the plate, Sabathia, is able to get ahead in the count without giving batters a good enough pitch to drive for base hits. Sabathia's fastball is not a strikeout pitch, however, as it only causes hitters to whiff six percent of the time.
In 2009, Sabathia introduced a sinker into his arsenal for the first time. The idea was to use this pitch similar to the fastball but by adding both an increased vertical and horizontal dynamic to the ball, more ground balls would be induced. While Sabathia used this pitch only 537 times in all of 2012, it has allowed him to get out of several jams by getting hitters to ground into double plays.
Finally, we will look at both of Sabathia's off-speed pitches, the changeup and the slider. The changeup is a pitch Sabathia only uses against right-handed batters (literally he threw it 0% of the time against lefties in 2012). There could be several reasons for this but it is probably due to the nature of movement on the pitch.
Sabathia's changeup runs down and away to right-handed batters but down and in to left-handed batters and most professional left-handed batters feast on pitches down and in. Sabathia most likely feels the risk of leaving a pitch in a lefty's wheelhouse is too great with his changeup, especially since left-handers struggle so immensely against his slider.
The average velocity of Sabathia's changeup is 86.56 mph, almost seven mph slower than his fastball. This is a fairly normal difference between fastball and changeup velocities, yet what makes Sabathia's changeup so good is its deception.
I have worked with a pitching coach throughout my own baseball career who played with Sabathia at the single A level with the Indians. According to my coach, Sabathia had hands so large he could palm the baseball to such an extent that you could no longer see the ball. Exaggeration or not, Sabathia has extremely big hands.
Using these large hands Sabathia is able to throw his changeup with the exact same arm-action as his fastball but have the ball come out at a slower velocity. This arm-action makes it impossible for batters to recognize the pitch is a changeup before it is too late and their timing is thrown off.
While Sabathia's changeup is phenomenal against right-handed batters, the pitch he relies on most, against left-handers and right-handers, is his slider. Sabathia's deadly slider, which breaks down and away from left-handers and down and in to right-handers, was the pitch he used for over 50 percent of his strikeouts in 2012.
Sabathia's late-breaking nasty slider is particular harsh on left-handed batters due to his release point. Coming from a high three quarters arm slot on the left-side Sabathia's slider often appears to start at the batters body before breaking across the plate.
Sabathia uses this type of slider to catch batters looking and for called strikes, but for swing-and-misses Sabathia uses his slider in a different way. Not only does Sabathia's slider sweep across the strike zone but it also has depth, which causes batters to swing over the top of it. When going for a swing-and-miss strikeout, Sabathia starts his slider in the middle of the plate and lets it drop out of the zone, hoping batters will chase at this unhittable pitch.
Using his size, physical talents, and blend of four quality pitches, C.C. Sabathia has established himself as one of the most brilliant pitchers in Major League Baseball. At only 32 years old, Yankees fans can rest peacefully knowing their rotation is in good hands with Sabathia leading the way for the years to come.
*The advanced pitching statistics are brought to you by Sportvision, Fangraphs, and Brooks Baseball. If you are interested in Sportvision and how it is changing baseball, check out the article Major League Baseball: Sportvision and the Future of Sabermetrics.
Read more New York Yankees news on BleacherReport.com