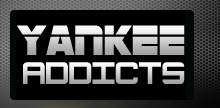 March 23, 2010 · Stephen Meyer · Jump to comments
Article Source: Bleacher Report - New York Yankees
Everyone has likely participated in the wonderful world of fantasy baseball at least one time during his or her lifetime.
Whether home base was at CBS, FOX, Yahoo, ESPN, or Sandbox, the goal was the same: compile the best team, destroy your friends, and remind them of it until next season.
In 2010, CBS is offering something different for all Bleacher Report lovers and participants. Normally costing a fantasy commissioner to dole out $180 to compete, CBSSports.com Fantasy Baseball Commissioner—the web's most powerful league—will be offered at 50 percent off to our B/R community.
This is not your father's fantasy league experience. This fantasy format recently won eight out of nine Fantasy Sports Trade Association Awards, and is the most dynamic blend of information exchange, research aid, game play, and fantasy excitement anywhere on the web.
Just some of the many features that these leagues can provide include, but are not limited to:
· Customize entire league the way you want…rules, scores, teams, and more
· LIVE scoring & stats so you can follow along as your team racks up points
· Keeper league capability to carry on the tradition for many seasons to come
· Expert analysis provides up-to-date information on all players & teams
· Live chat/league messenger to trash talk with your competition
· Manage your team from any mobile device, including iPhone
· 14-Day Free Trial included
If you want to start up your own league and take advantage of this great opportunity, please head over to CBSSports.com and get started TODAY.
If you feel you may not have the ability to split $90 amongst 10-12 of your friends (which I don't see why not), feel free to switch over to CBS from your other fantasy provider and join our already established fantasy leagues for free.
We are looking for more managers as well, and B/R, CBS, and I would love to have you aboard. Email me immediately at stephenlouismeyer@gmail.com to get involved, or click the link above and start your experience.
Thanks so much for reading everyone, and enjoy the always exciting MLB fantasy (and real life) season.
______________________________________________________________
CBSSports.com is a Bleacher Report partner and paying sponsor of the Bleacher Report baseball communities. This post is one of a series of sponsor-endorsed posts related to the CBSSports.com Fantasy Baseball Commissioner League.
Read more New York Yankees news on BleacherReport.com